Easy Mediterranean Shrimp and cheese Grits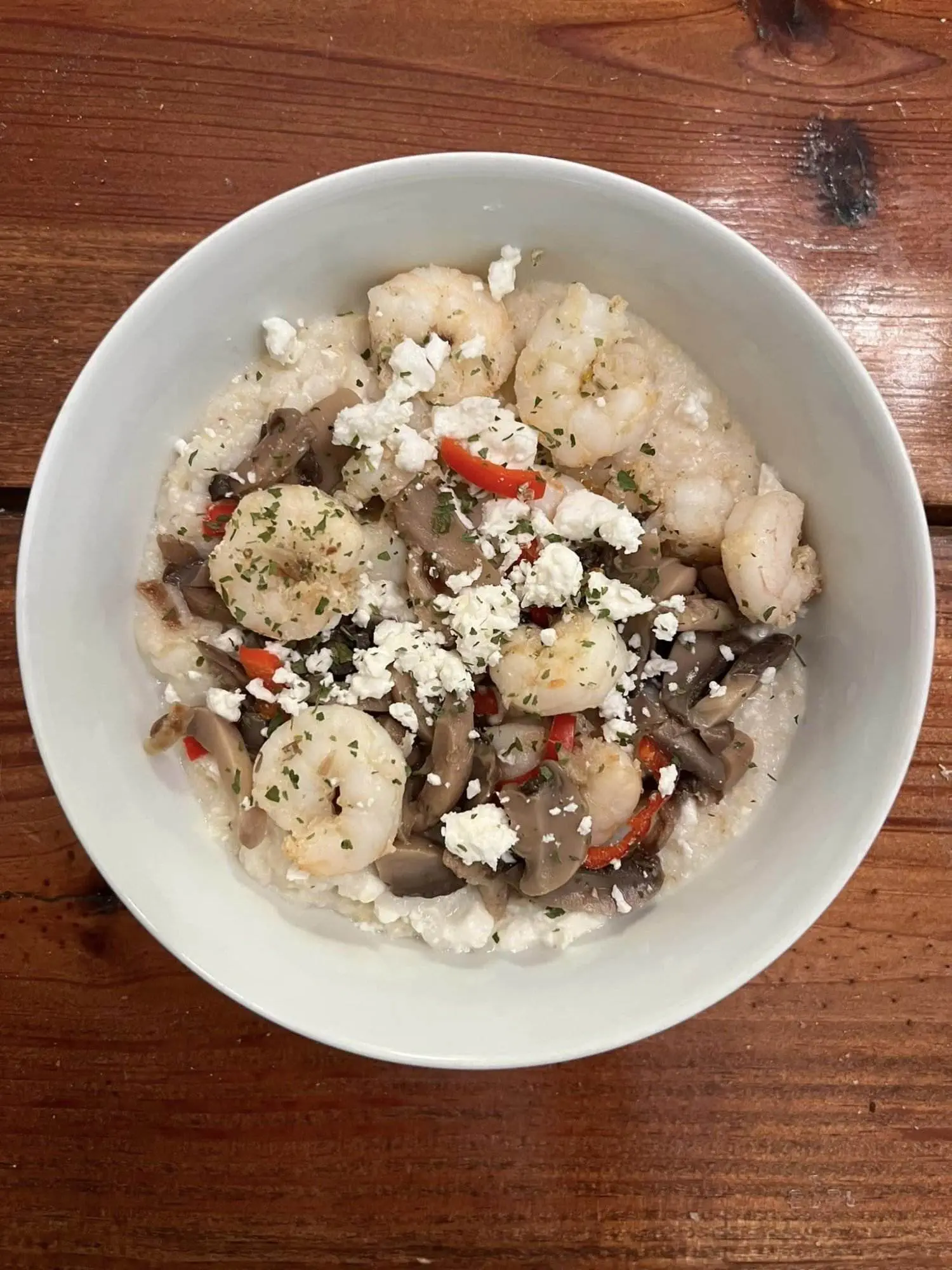 Ever since I moved to the South and tried them, I have always loved shrimp and grits. As I follow a Mediterranean diet, my previous recipe with bacon and cheddar cheese was a no go. So it was very important to me to come up with an Easy Mediterranean Shrimp and cheese grits.
This recipe is so good and very simple to make. You will love knowing how to make this easy dish the next time you are craving comfort food. I always make extra cheese grits because my boys love them for breakfast the next day. If the amount of grits here is too much for your family, you can cut the measurements ingredients for the grit portion by half.
You will need:
For the Grits:
1.5 cups of Stone Ground Grits
3 cups broth (chicken or vegetable broth) I use homemade stock
1 tsp Salt ( more if needed)
1 cup of feta cheese ( and more for sprinkling on top
For the shrimp topping
1/2 t salt
1 tsp Pepper
a pinch of red pepper flakes ( omit if you don't do spice)
3 fresh garlic cloves, minced
1 lb Shrimp peeled and deveined ( wild caught)
1 diced bell pepper
1 small diced red onion
To make the Grits:
Pour the broth and the milk into a pot and add salt, bring to a boil. Add the grits. Simmer for 20 minutes, stirring frequently.
Add the feta cheese and stir it in.
For the shrimp and vegetable topping:
In a large sauce pan cook the onion, garlic, mushrooms and peppers, remove from the pan, set aside. Next cook the shrimp in a single layer.
When the shrimp is done – add all the vegetables back to the pan and combine.
Serve the shrimp mixture in individual bowls over the cheese grits and sprinkle with fresh parsley.
If you want another delicious Mediterranean recipe, check out my Easy Baked Feta Pasta with Roasted Vegetables
WANT MORE EASY AND DELICIOUS RECIPES?
Join our FREE farm to table recipe recipe sharing community HERE for nightly What's for dinner inspiration, and a community of people who love delicious and healthy food.

Never miss a recipe – subscribe to Homesteading and Hungry Here
---
---