How to make Pomegranate ginger muffins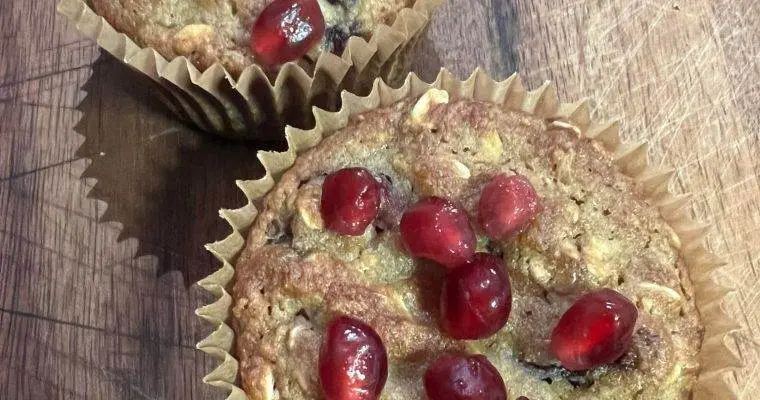 I am obsessed with pomegranates lately. I've been finding all kinds of fun ways to use them. I love them in my oatmeal, in my drinks and on salads. As I am always trying to come up with fun muffin combinations, of course I has to find a way to incorporate my beloved pomegranates. I wanted muffins that were both savory and sweet. These pomegranate ginger muffins fit the bill.
Unlike the muffins packed with sugar you can get in packages at the store, these muffins are sweetened with pomegranates and maple syrup. Once you start making your own homemade muffins, you will see, your own not only taste better, but they are super easy to throw together. As in all of my other muffin recipes, these muffins are healthy, with whole grains and fruit. Make a bunch of these pomegranate ginger muffins and freeze them for easy grab and go breakfasts or snacks.
YOU WILL NEED:
a cup of pomegranate seeds
A cup of old fashioned rolled oats
1 cup of almond flour or whole wheat flour
A cup of cashew milk or other milk of choice ( I always use leftover pulp from my homemade coffee creamer)
2 eggs (beaten)
1/2 cup maple syrup (you could also use honey here)
1/4 cup olive oil
1 tsp almond extract
1/2 t cardamom
1 t baking powder
t baking soda
1 t ginger
a pinch of salt
TO MAKE Pomegranate ginger muffins:
To a large bowl, mix together the, oats, almond flower, baking powder and soda, salt, cardamum, and ginger, stir until well combined.
Next add in the eggs, milk of choice , pomegranates , maple syrup, almond extract and extra virgin olive oil
Mix together well
Scoop the mixture into muffin cups and bake at 375 for 18 to 20 minutes
I hope you enjoyed this recipe, if you make these, please come back and tell me how you liked them!
TO FREEZE:
Let the muffins cool completely. Put desired about of muffins in a Ziplock Bag.
TO REHEAT:
Pop one or two muffins in the microwave for 30 – 45 seconds whenever you want one.
WANT MORE EASY AND DELICIOUS RECIPES?
Check out Homesteading and Hungry on Youtube
Join our FREE farm to table recipe recipe sharing community HERE for nightly What's for dinner inspiration, and a community of people who love delicious and healthy food.

Never miss a recipe – subscribe to Homesteading and Hungry Here
---
---