Elf on the Shelf ™ ideas for Homesteads and Hobby Farms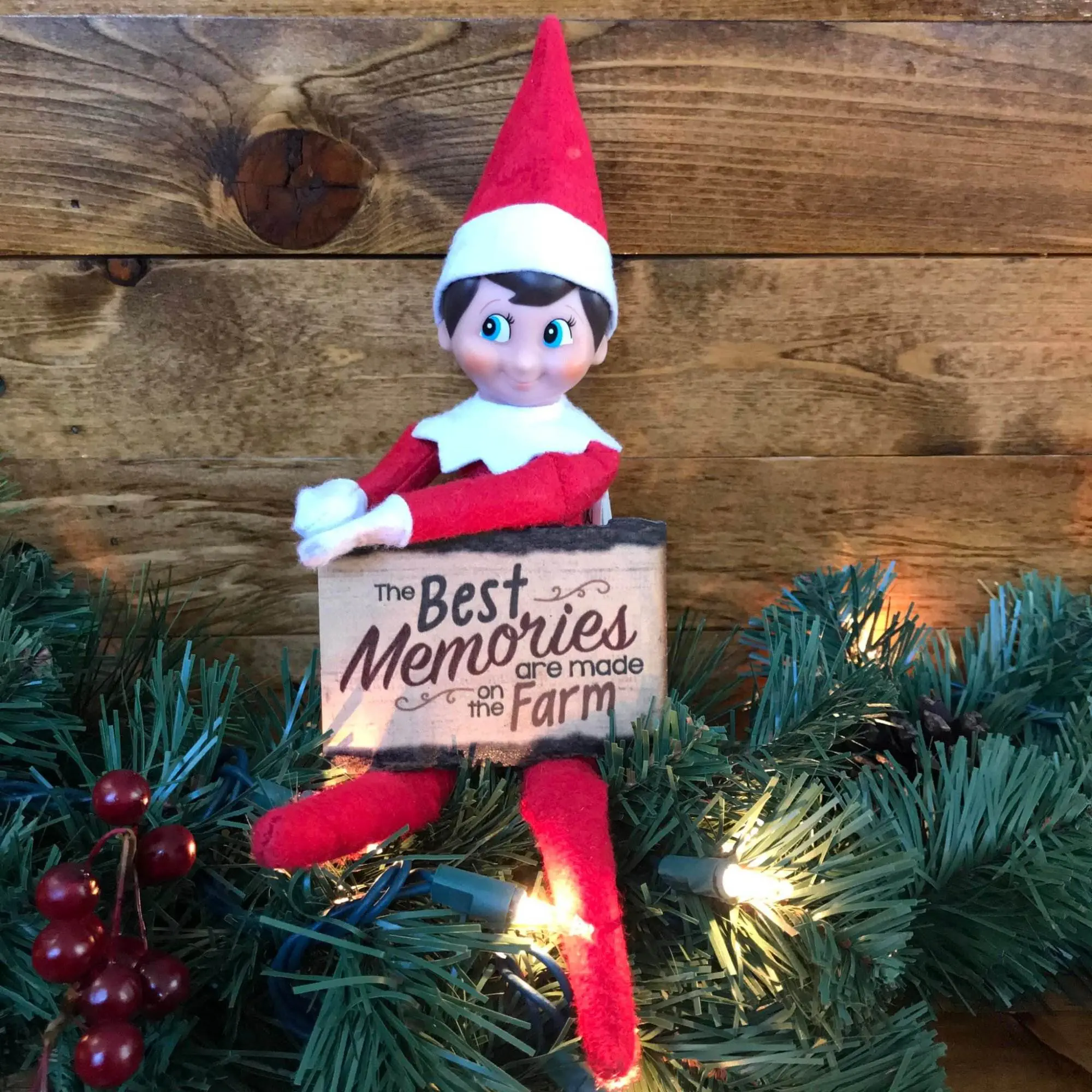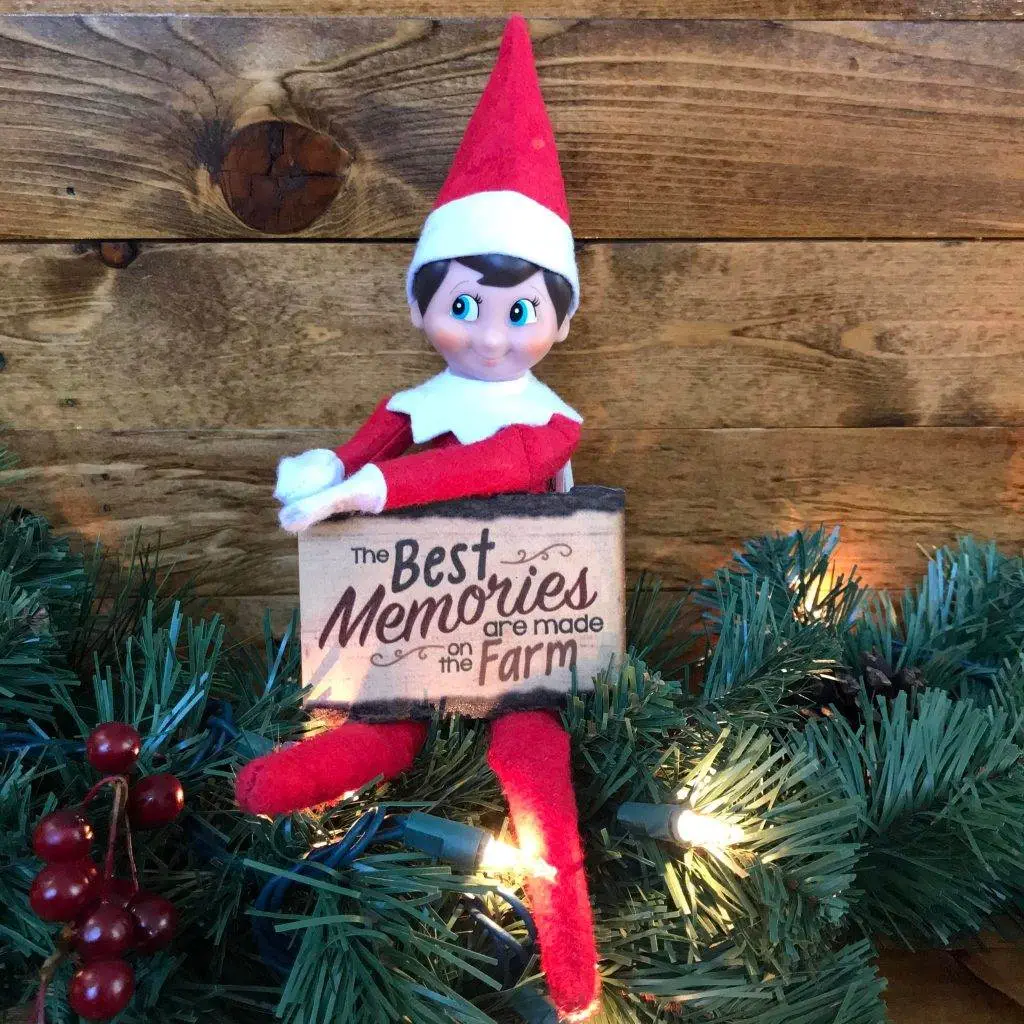 Everyone loves the Elf on the Shelf ™ ideas this time of year but we as homesteaders and hobby farmers live a different kind of life, therefore our elves get themselves into different situations. Check out our elf's adventures in the homestead kitchen, or hanging out with the chickens, ducks and bunnies, helping to do morning chores around the farm and more. Is your Elf a helper or a mischief maker? We have included ideas for both as well as a few great gift ideas for your homestead loving kiddos! We hope this gives you elf on the shelf ™ ideas and inspiration for your own homestead or hobby farm.
*This post contains affiliate links, as an Amazon Associate I earn from qualifying purchases.
---
Elf in the Homestead or Hobby Farm Kitchen
Seasoning the cast iron skillet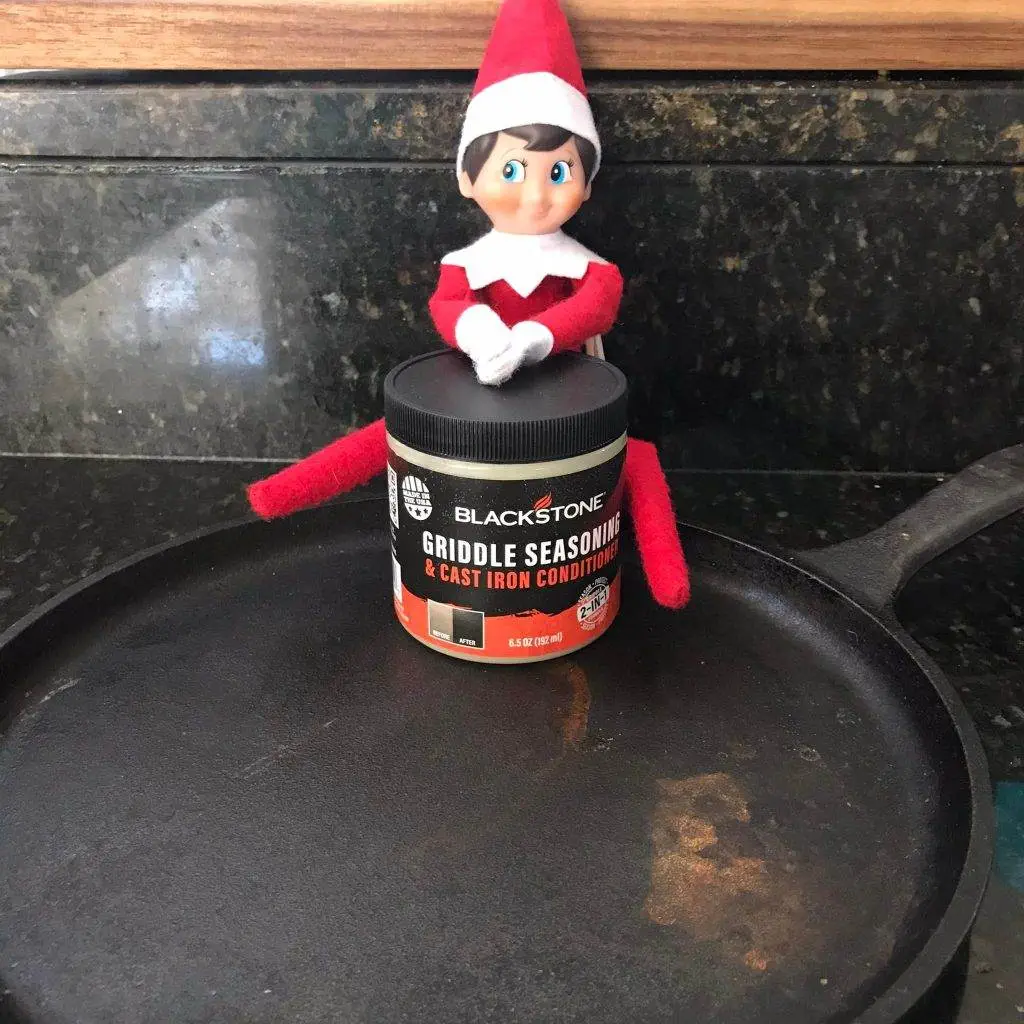 Any good homestead or farm is chock full of cast iron skillets and cookware. The elf can be used as an introduction to teaching the kids how to care for these beloved kitchen tools.
---
Meal Planning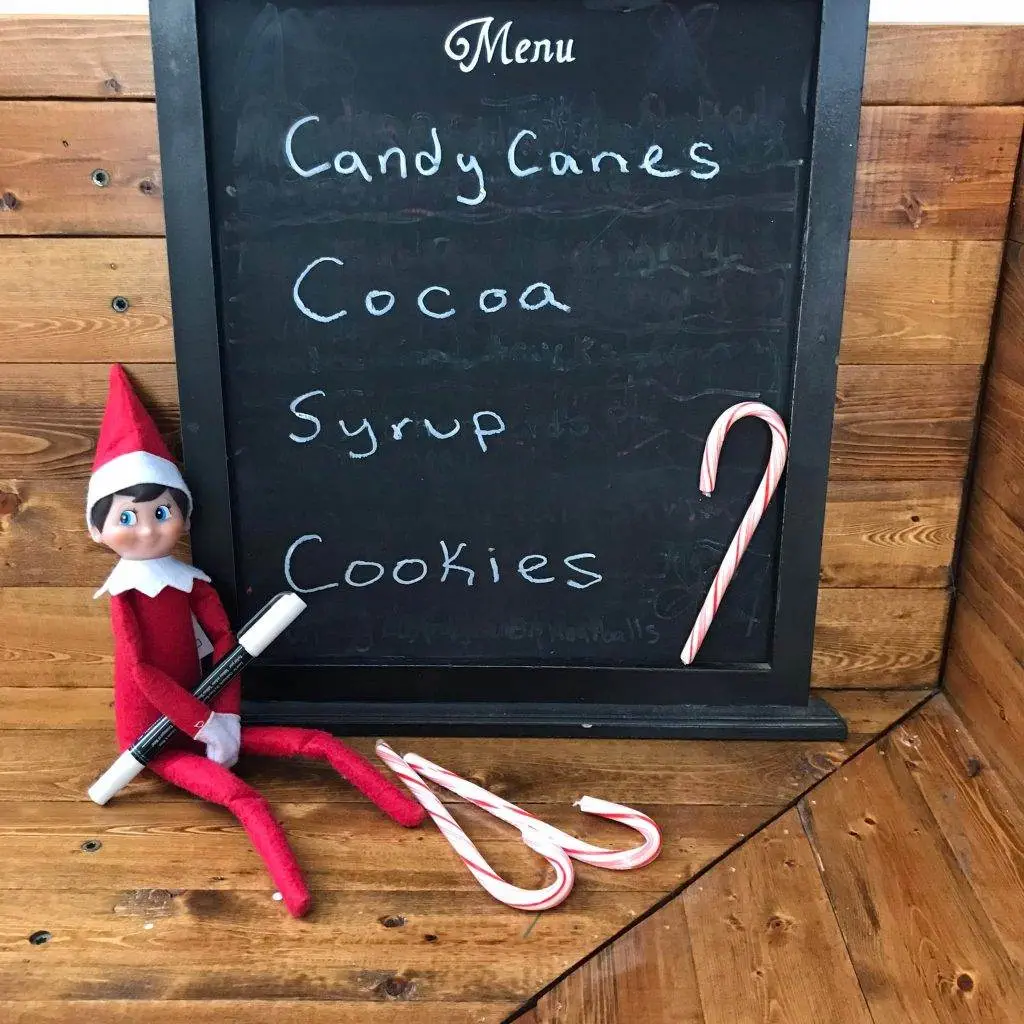 While this menu sounds um, delicious, if you want to check out some more nutritious farm to table meal planning and prepping options – check out our guide to homestead meal planning made healthy and easy!
---
Helping make healthy choices with the local CSRA basket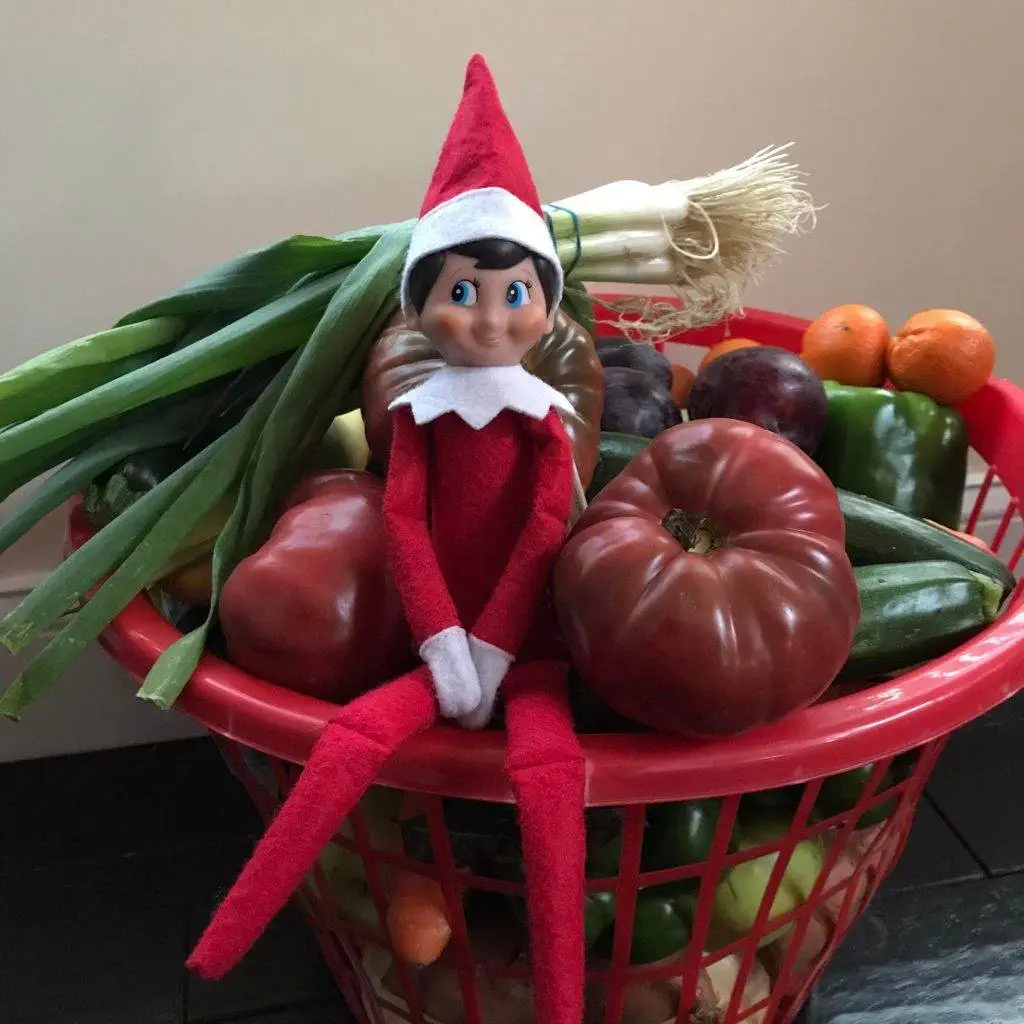 This Elf knows that a local fresh veggie basket is a great way to get delicious and healthy produce even when the home garden is not producing as much. Shout out to the Edgefield Veggie Coop for this beautiful basket!
---
Building a well stocked pantry and having fun with labels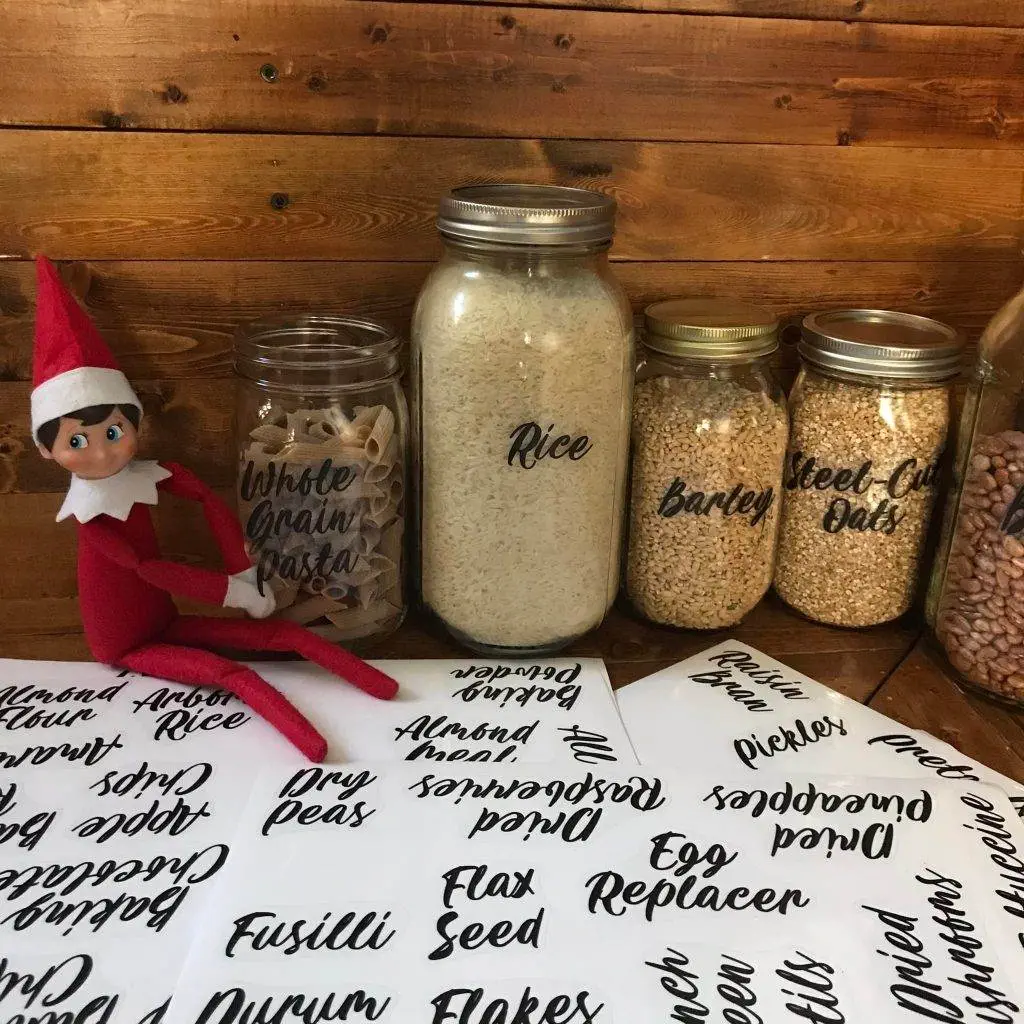 Our elf loves organization and having a well-stocked pantry that is both functional and pretty makes it easy to get made from scratch recipes on the table. We love these pantry labels we found, because there are SO many of them ( over 200)and they cover almost anything you can imagine. The organizer on your gift list will love them too.
---
Making Home remedies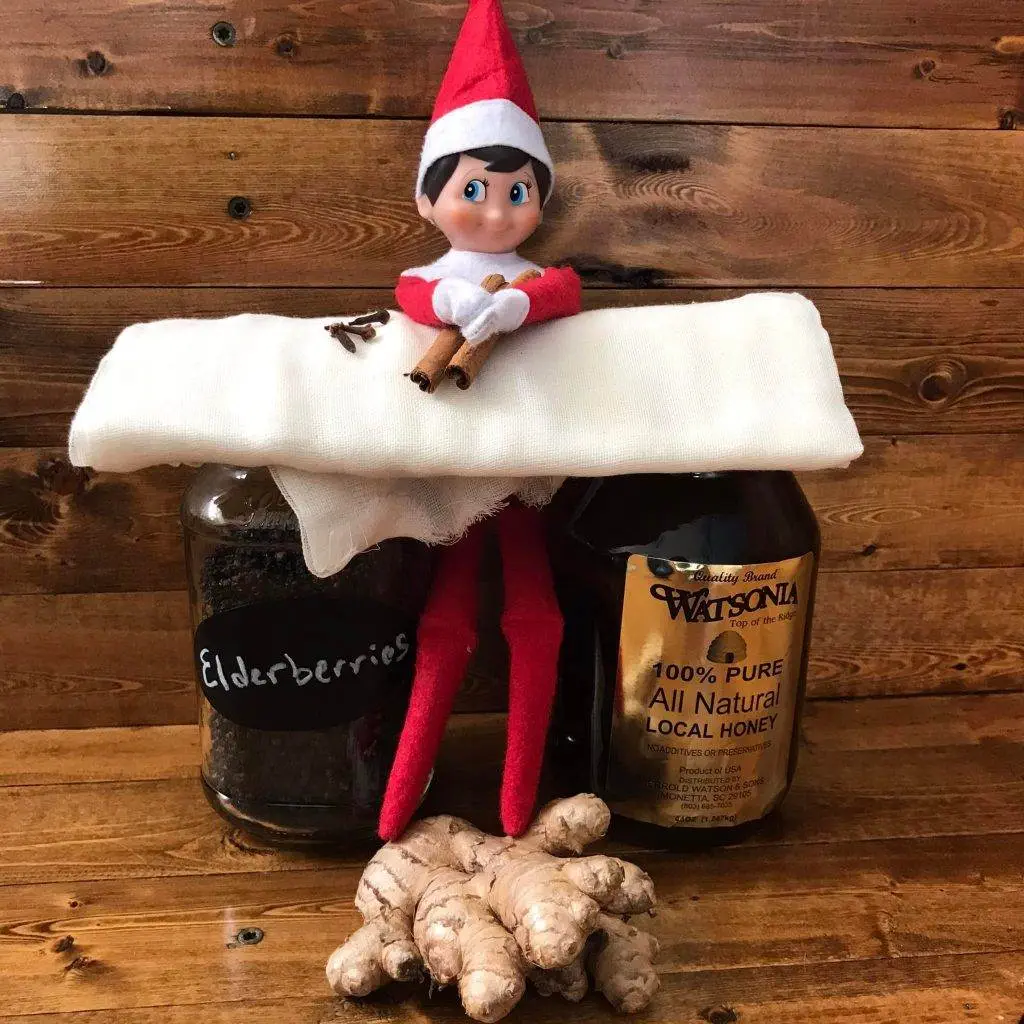 Making home remedies is fun and easy!
---
Hiding in the eggs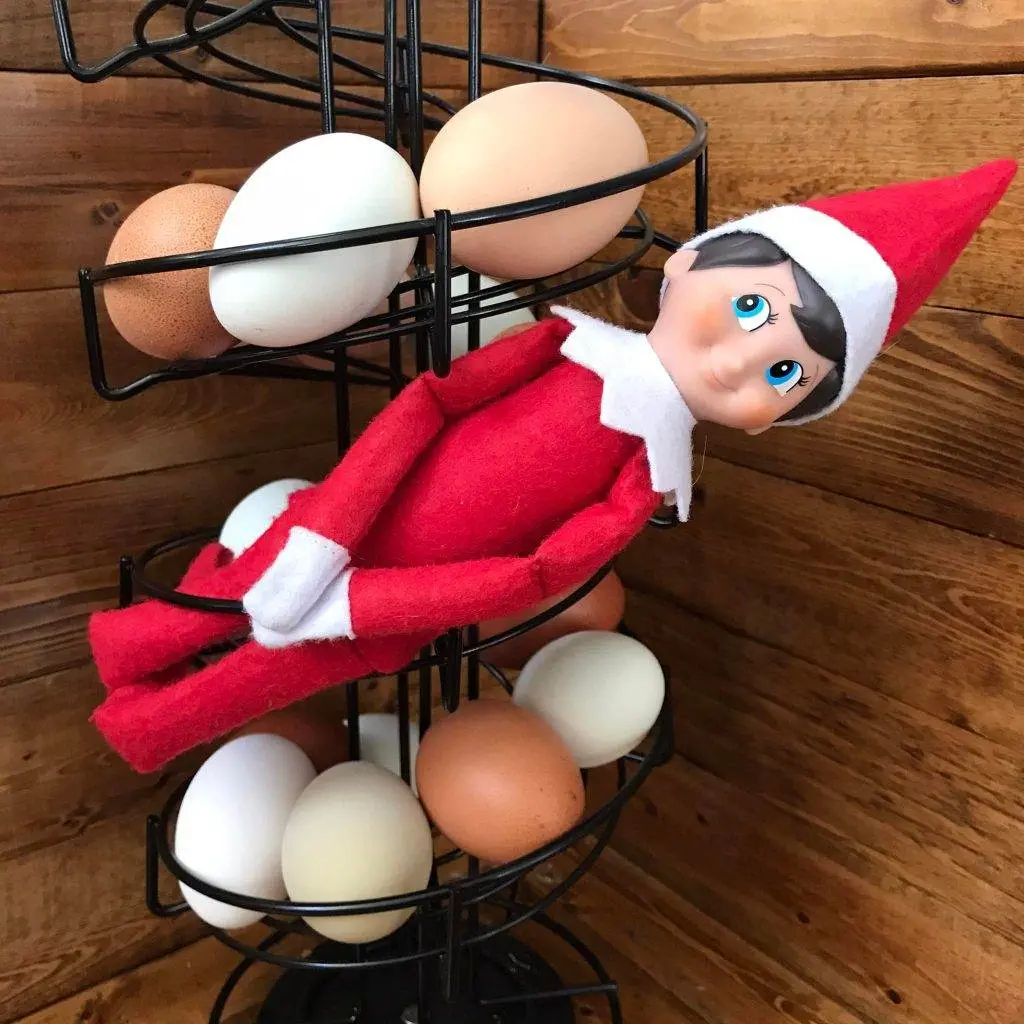 Our elf knows a lot of us keep our eggs on the counter – hope his elf suit doesn't rub off any of the precious bloom that protects the eggs and keeps them fresh.
---
Canning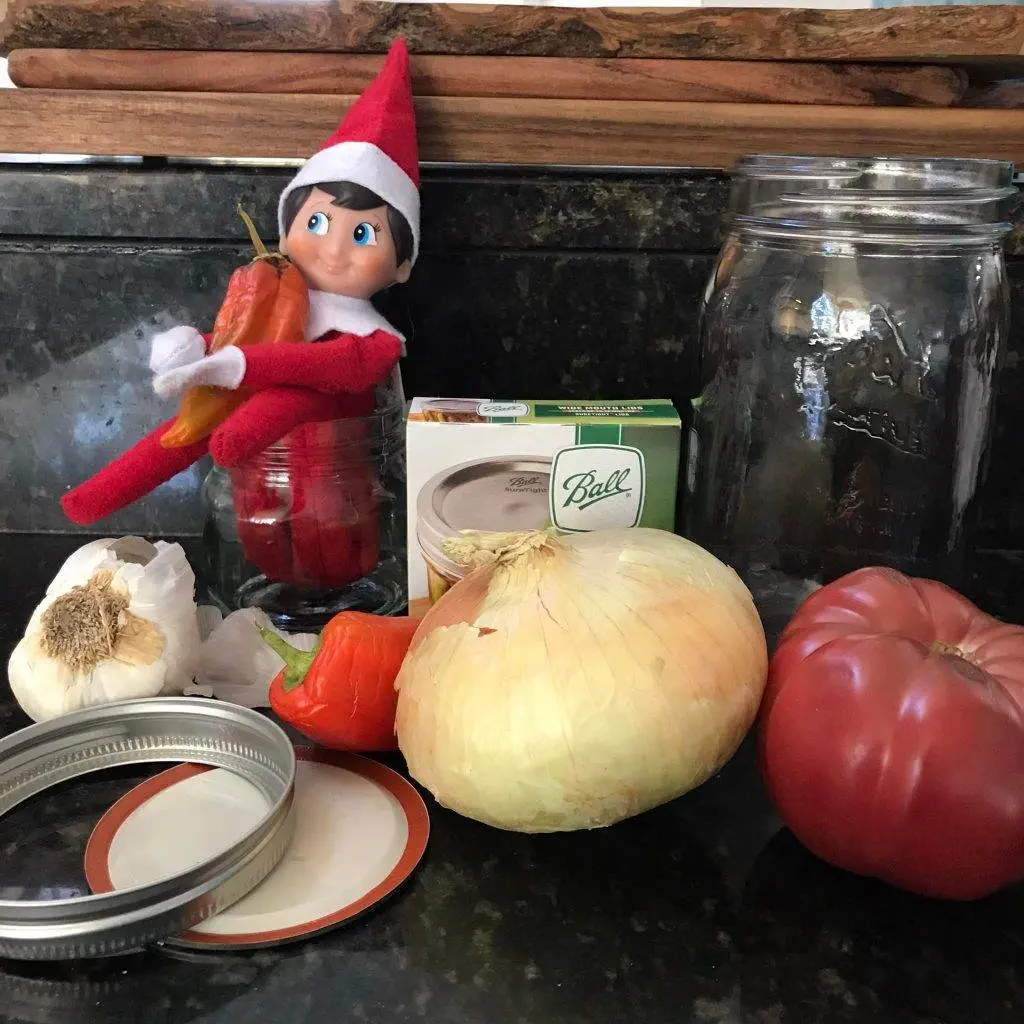 Who knows what he is making? This would be a super fun way to get set up for a fun morning of canning and preserving with the kids.
---
Elf doing Morning Chores around the Farm
Fixing the tractor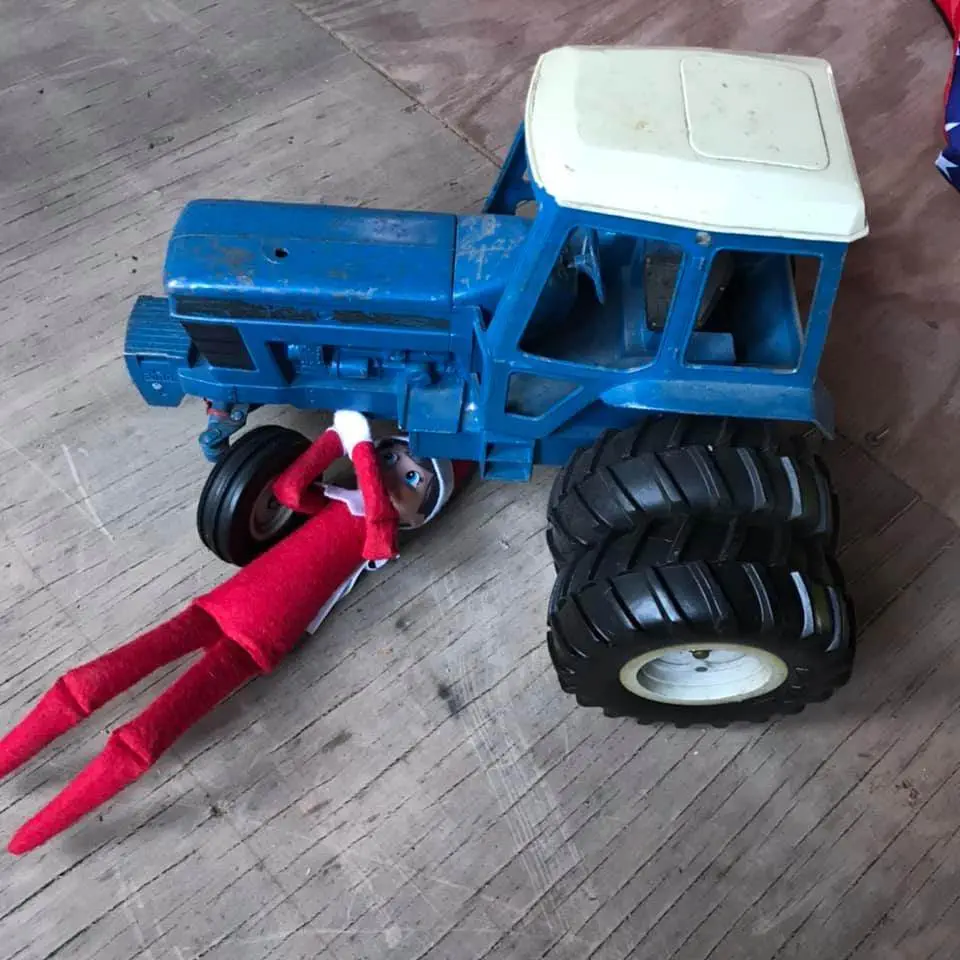 Our elf knows that routine maintenance on the farm equipment is crucial to keep things in proper working order.
---
Mischief with the hoses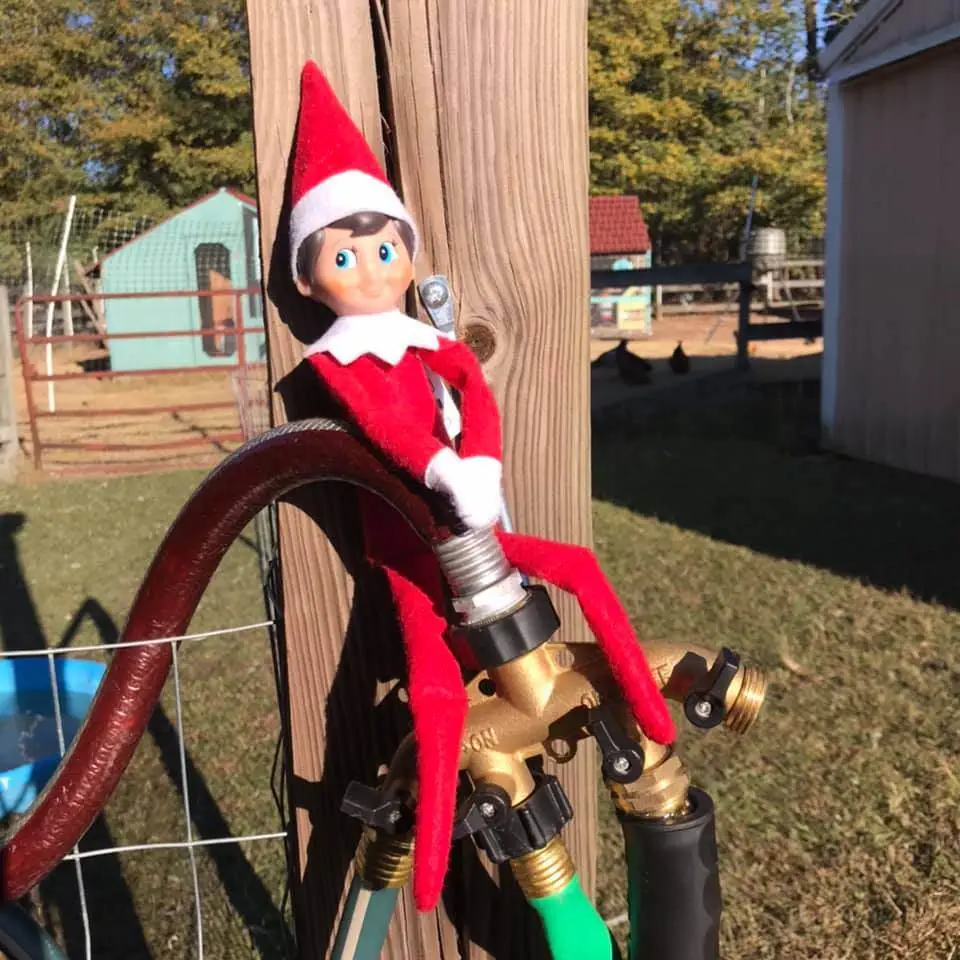 Is he helping or causing chaos here? It is hard to tell.
---
Composting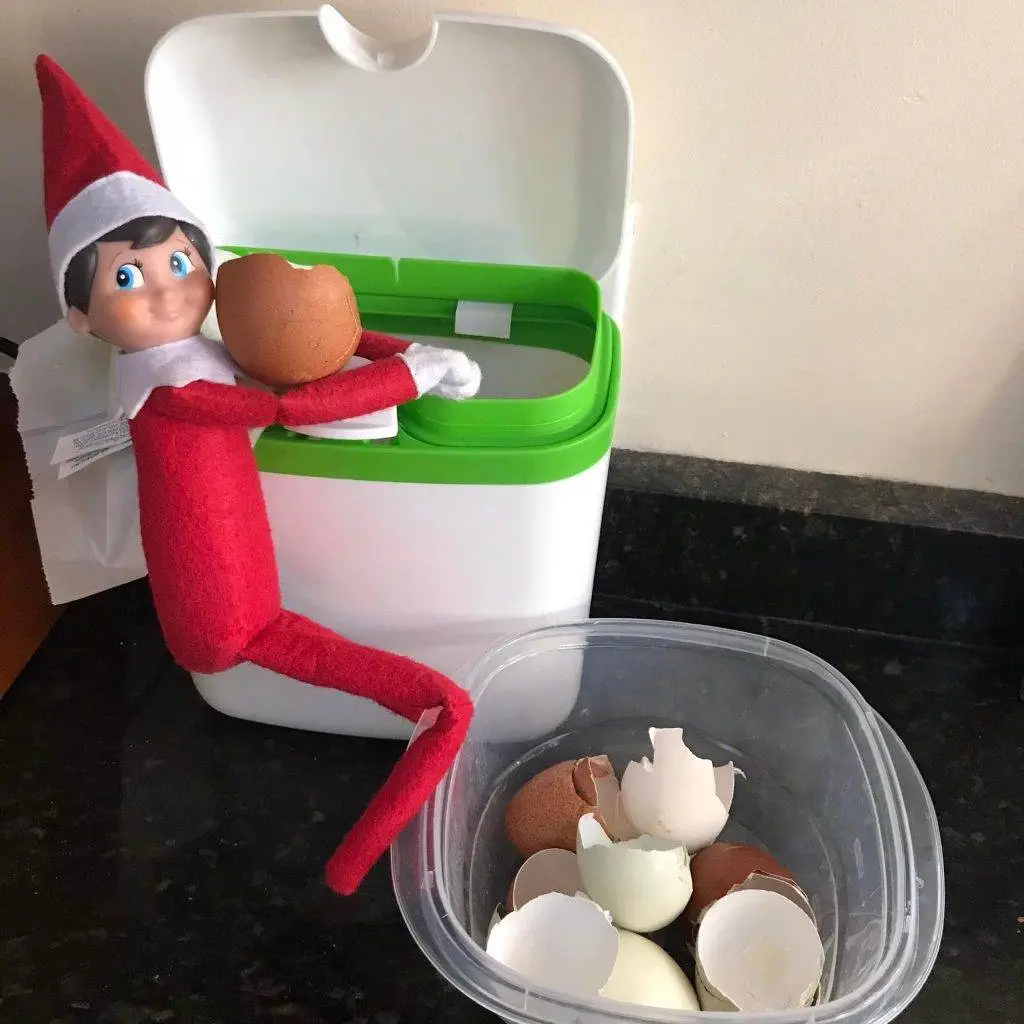 Our elf knows that eggs shells are wonderful nutrients to build soil.
---
Plant Identification
Plant Identification is such a useful skill to learn. We love knowing what wild edibles are growing on our homestead both for ourselves and to forage for the chickens.
---
Playing peek-a-boo in the feed bucket
---
Peek-a-Boo we see you.
Spraying down the Vermicompost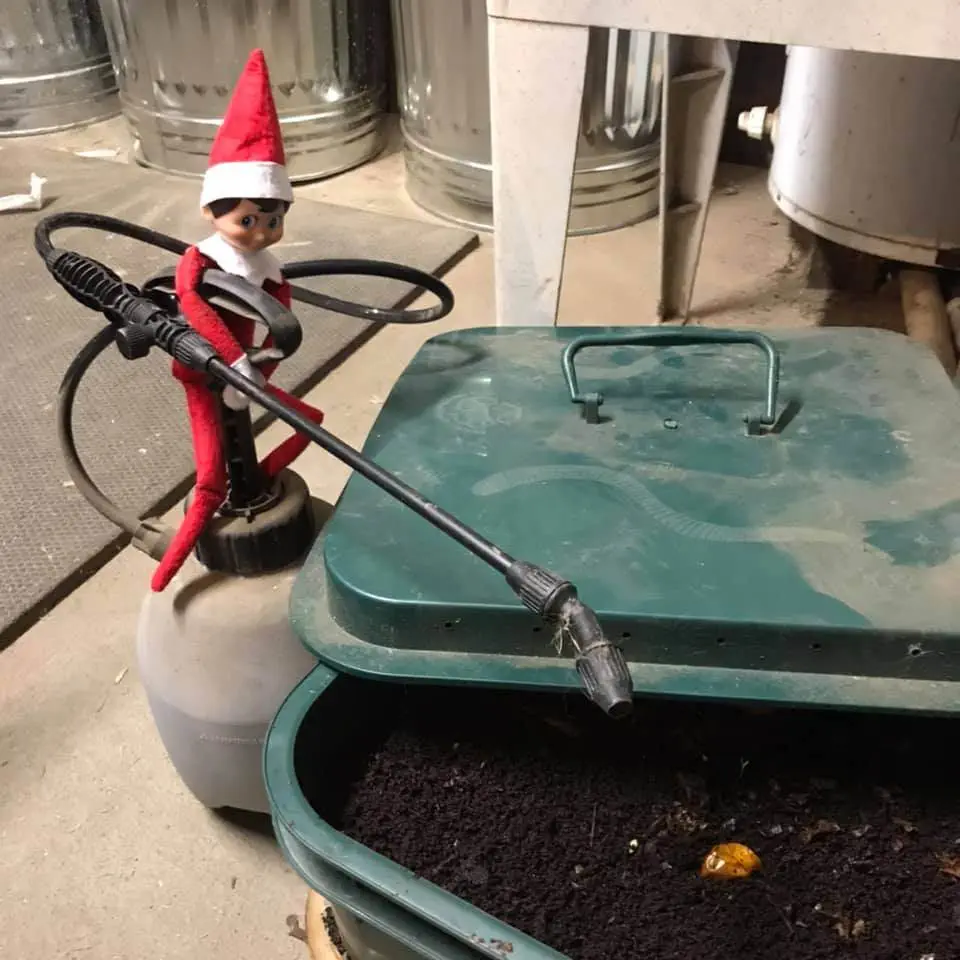 Making sure the soil is moist so our red wigglers can do their thing and make worm tea for the garden.
---
Filling the watering can with the rain barrel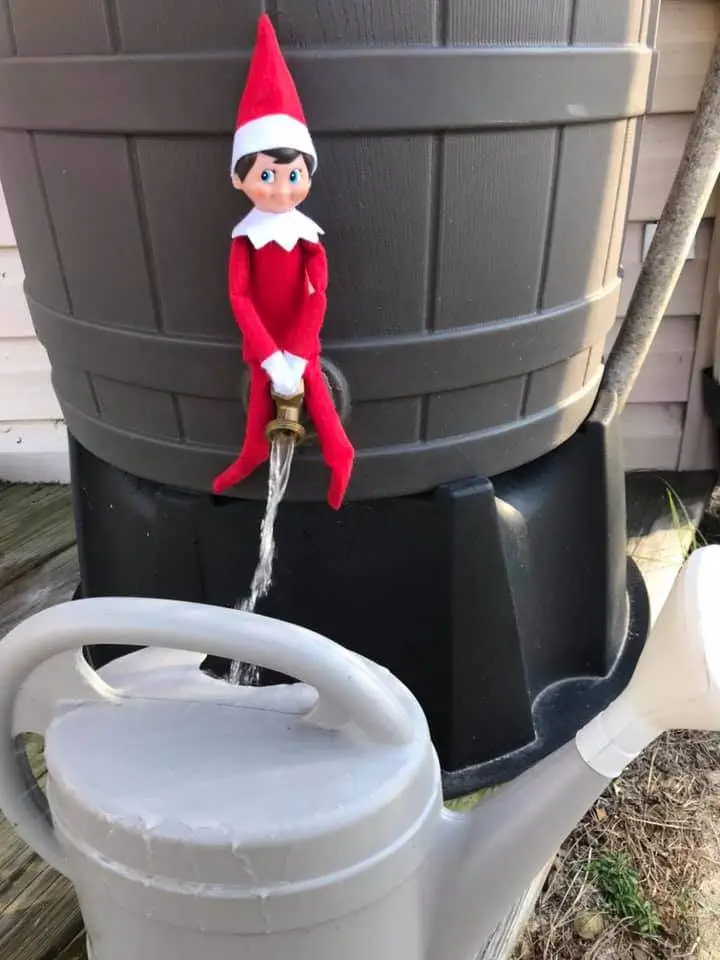 Filling the watering can to water the plants
---
Sitting on eggs in a nesting box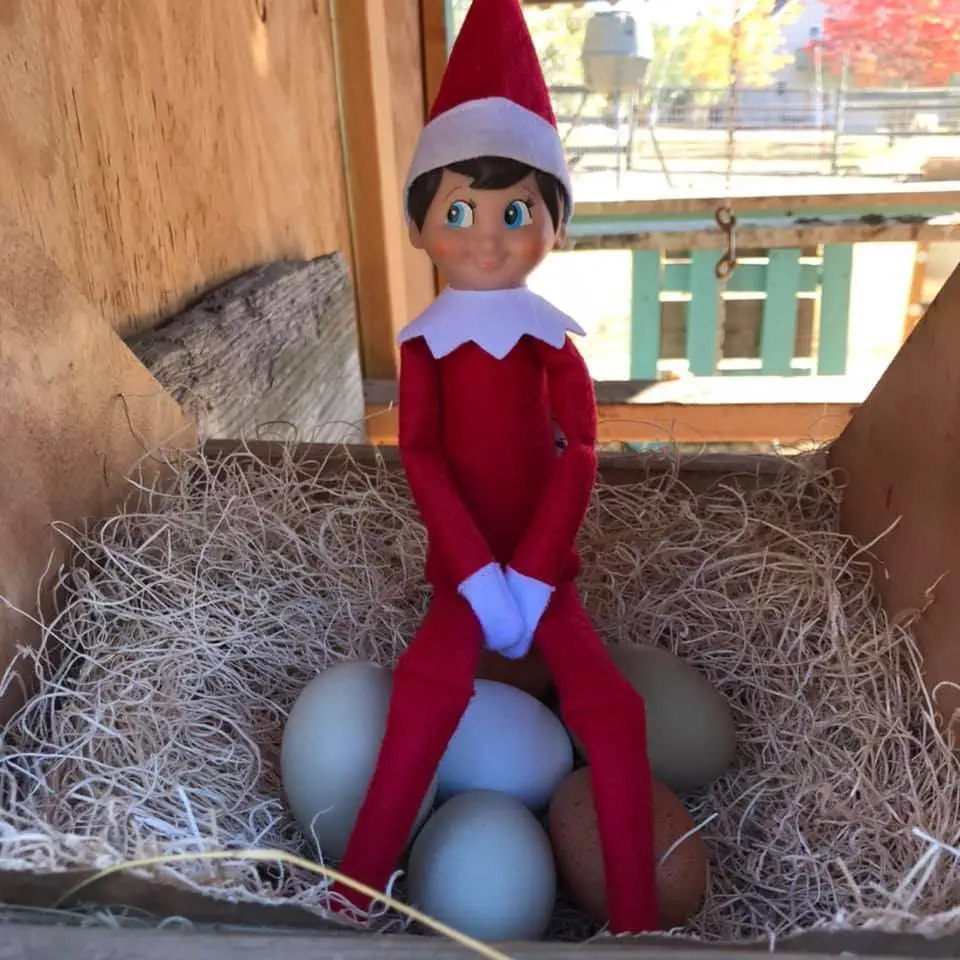 Uh Uh – we've got a Broody elf!
---
Closing or unlocking the gate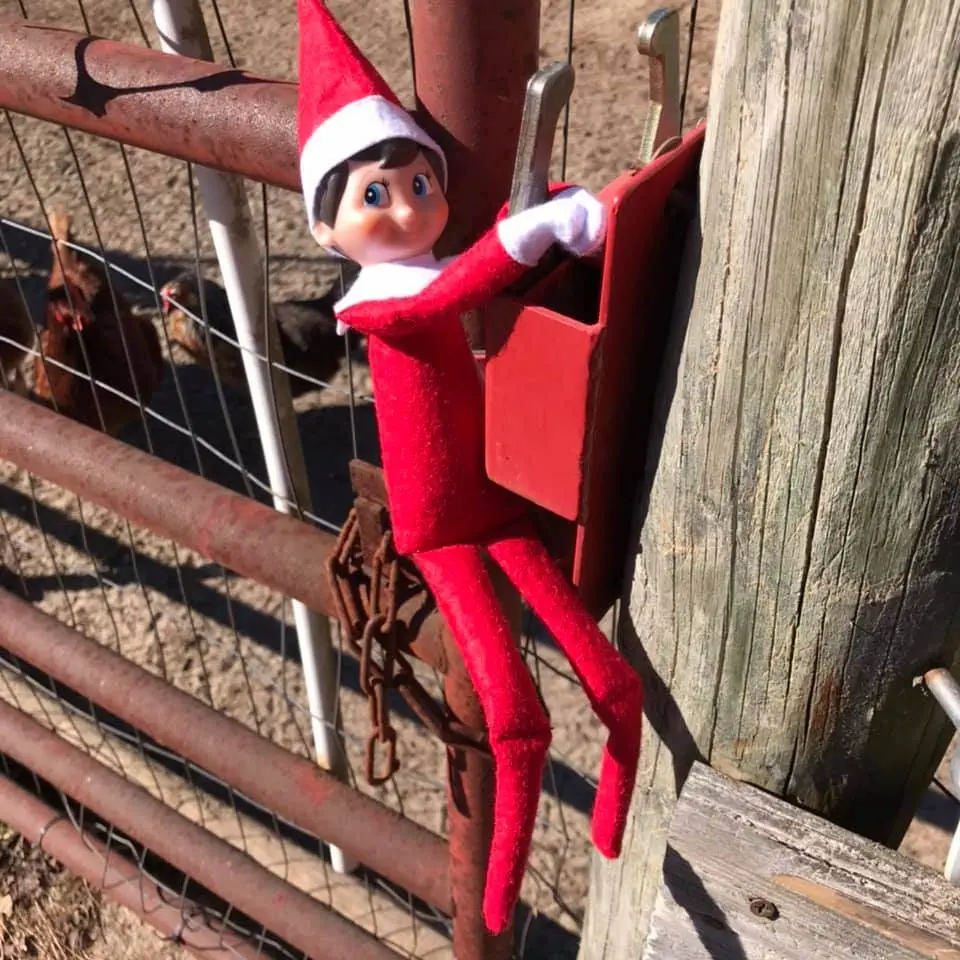 Is he locking the chickens in or letting them out? You decide.
---
Corning for Deer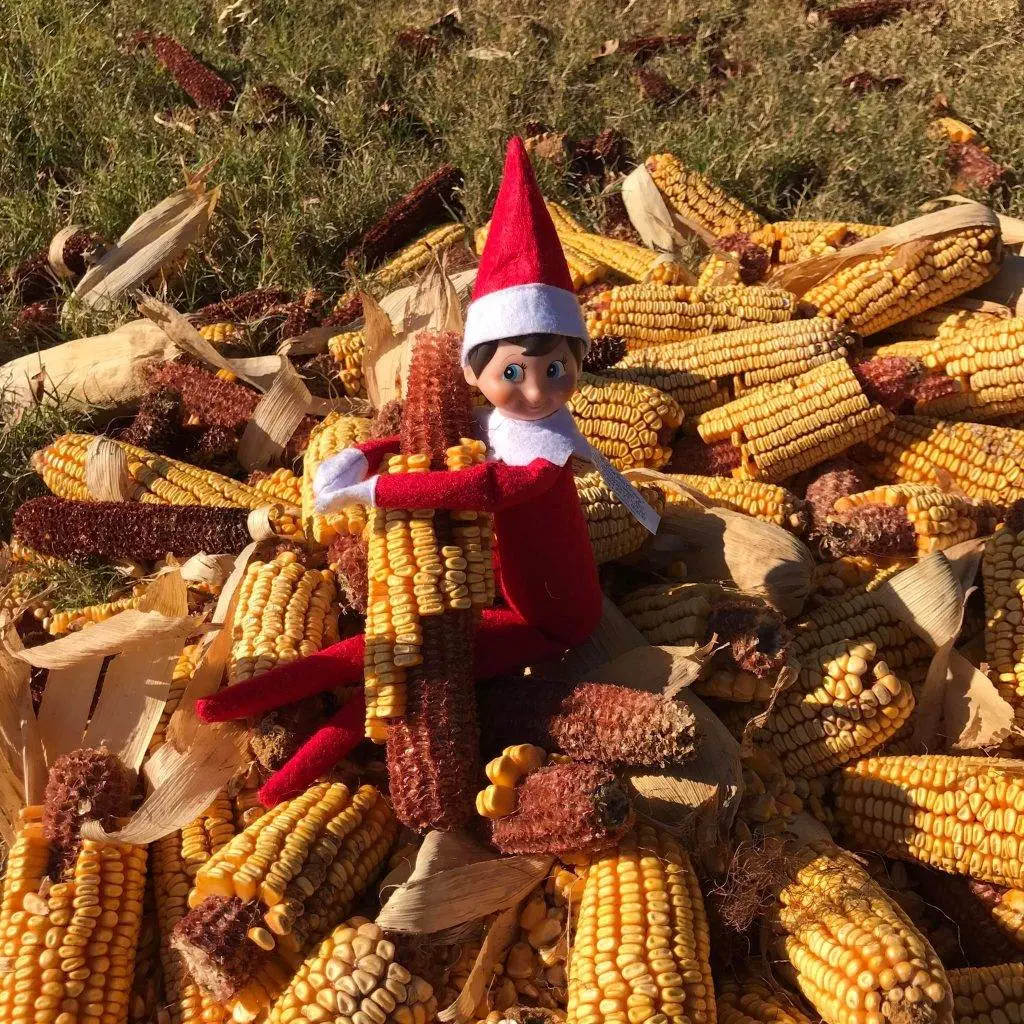 Helping provide meat for the freezer
---
Popping up in the trail Camera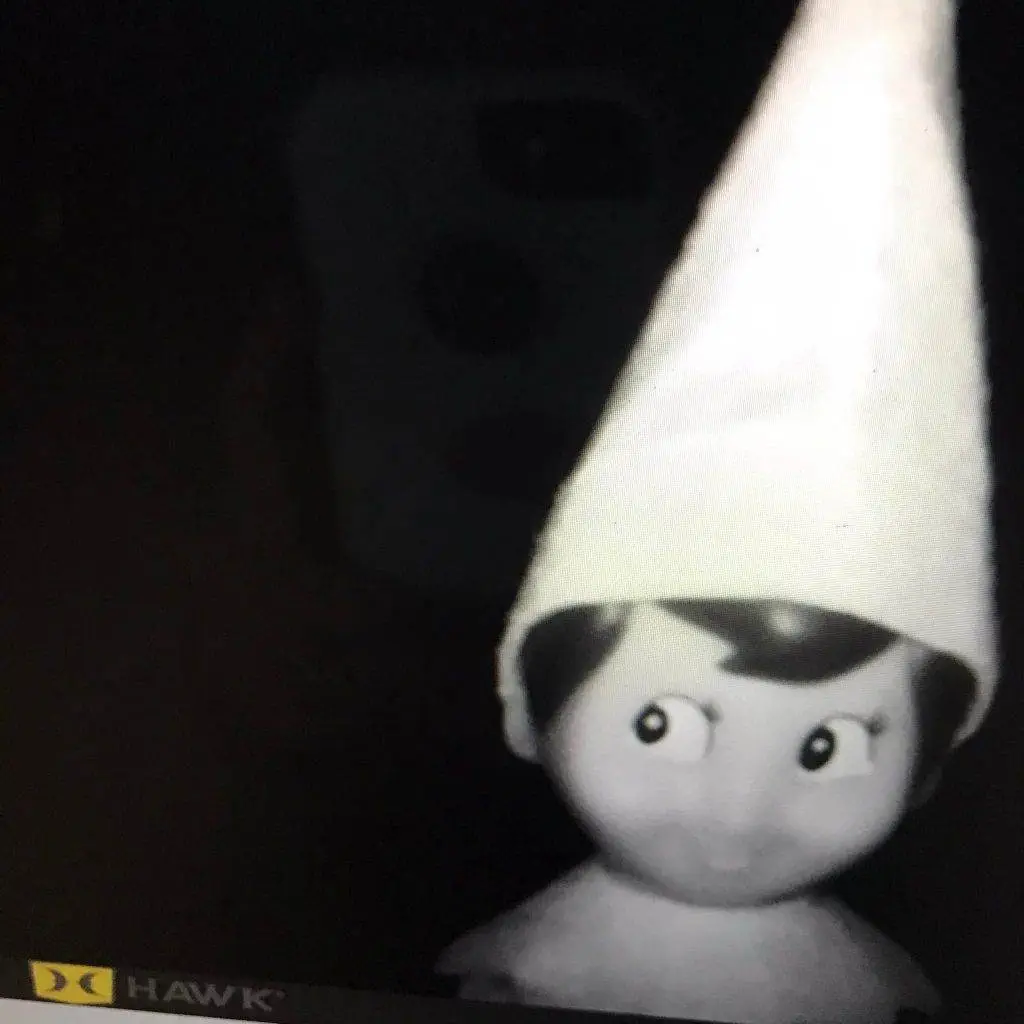 This is also a fun way to mess with the hunter in the family.
---
Elf hanging with the animals
Chillin' with the barn cats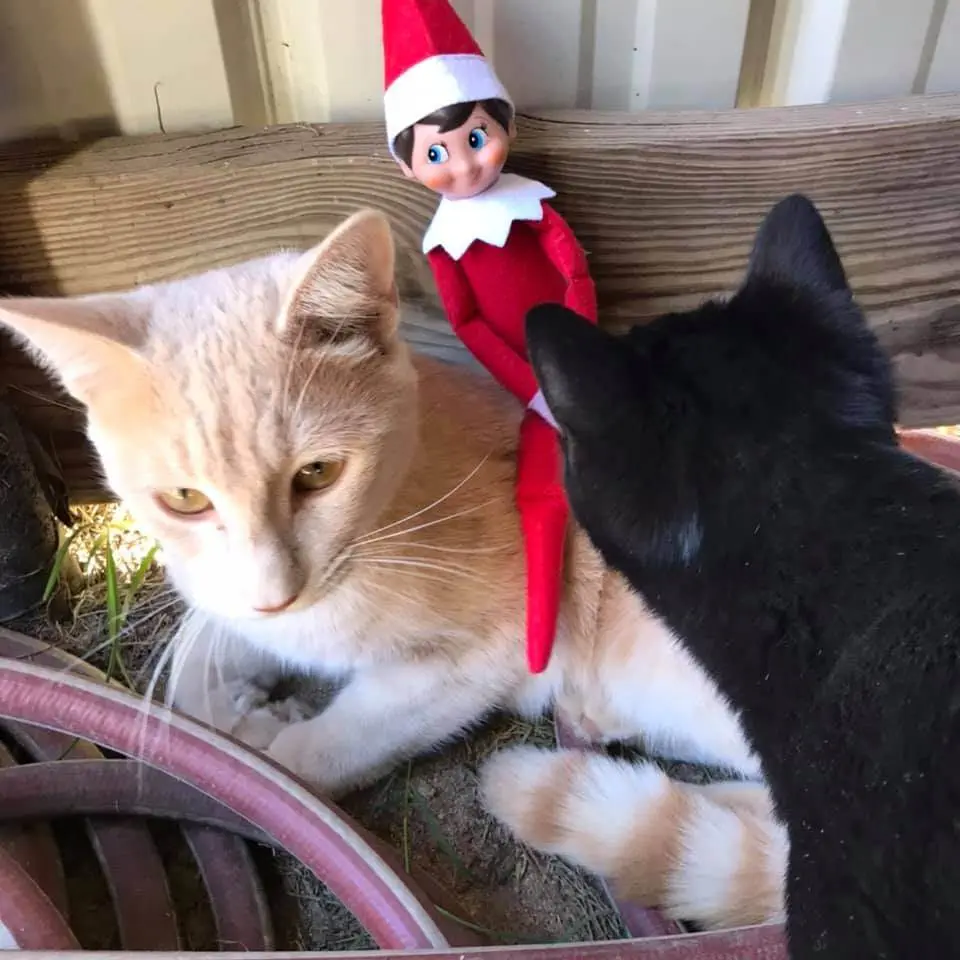 We were the three best friends that anyone could have
---
Fishing in the duck pool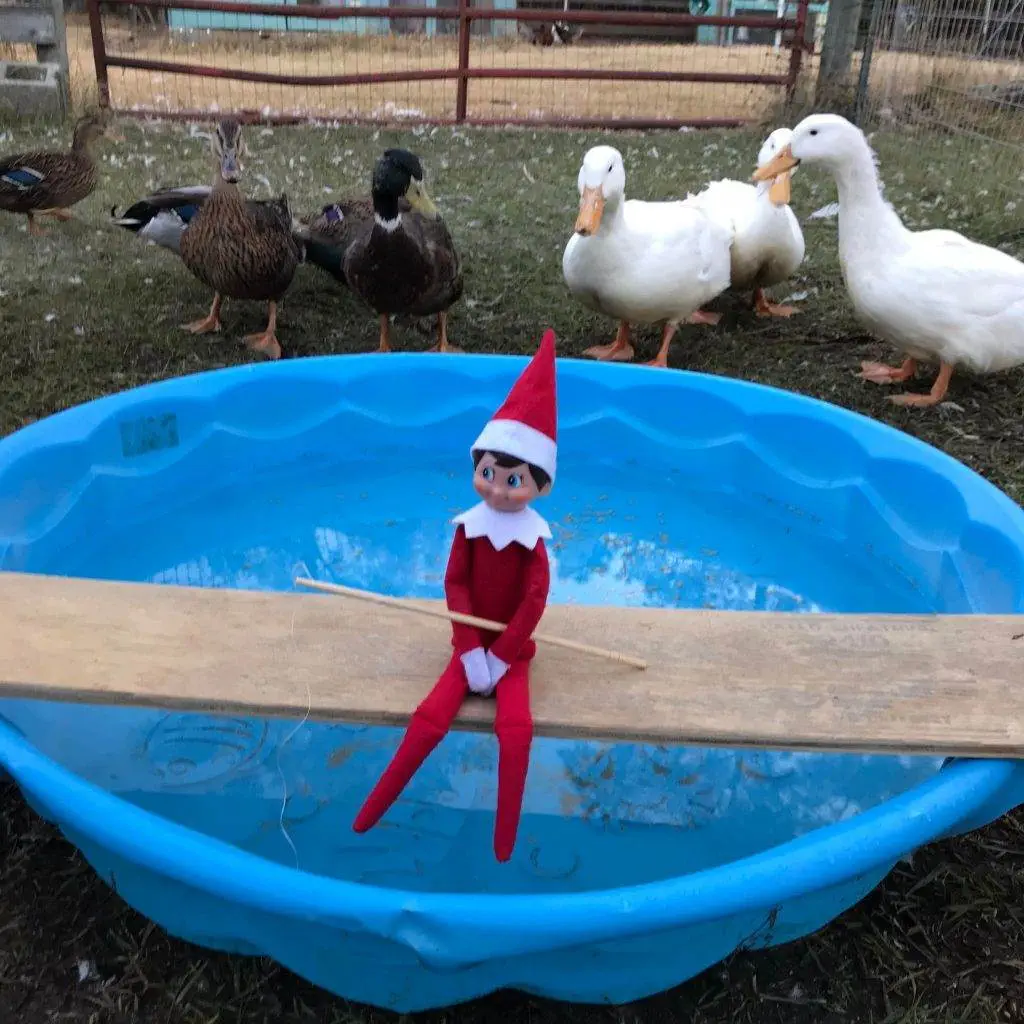 The ducks were not big fans of this imposter.
---
Feeding the the bunny a snack
Kale and carrots, yes please. (we know that bunnies cannot have this much carrot daily, once and a while a little for a treat is ok)
---
Becoming a chicken whisperer
This is such a cute book for the chicken aficionado on your list! Just starting out with chickens or getting some in the future? Check out our guide on how to get started with chickens on your homestead or hobby farm.
---
Stuck in the automatic chicken door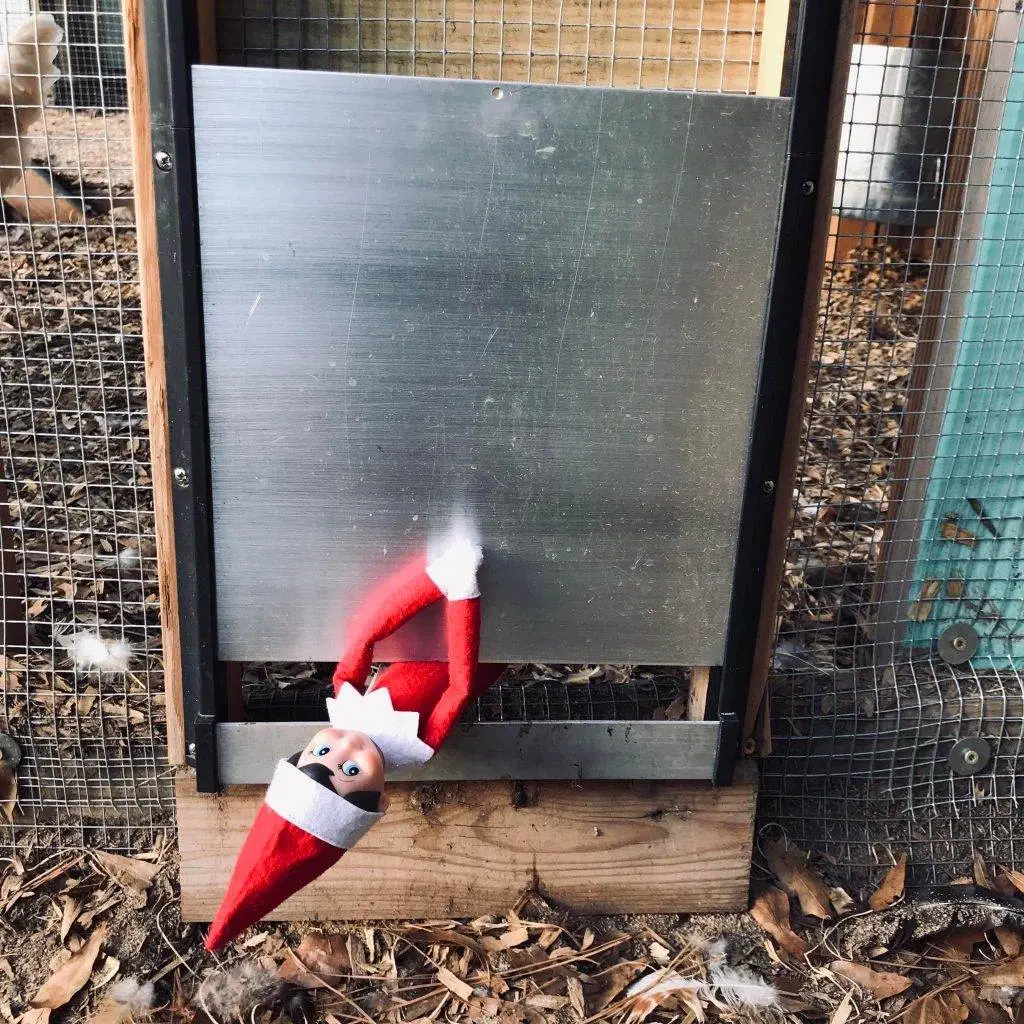 As mentioned in our guide we linked above, automatic chicken doors are game-changers!
---
Attacked by a gator
If you are in South Carolina like we are or Florida, you know.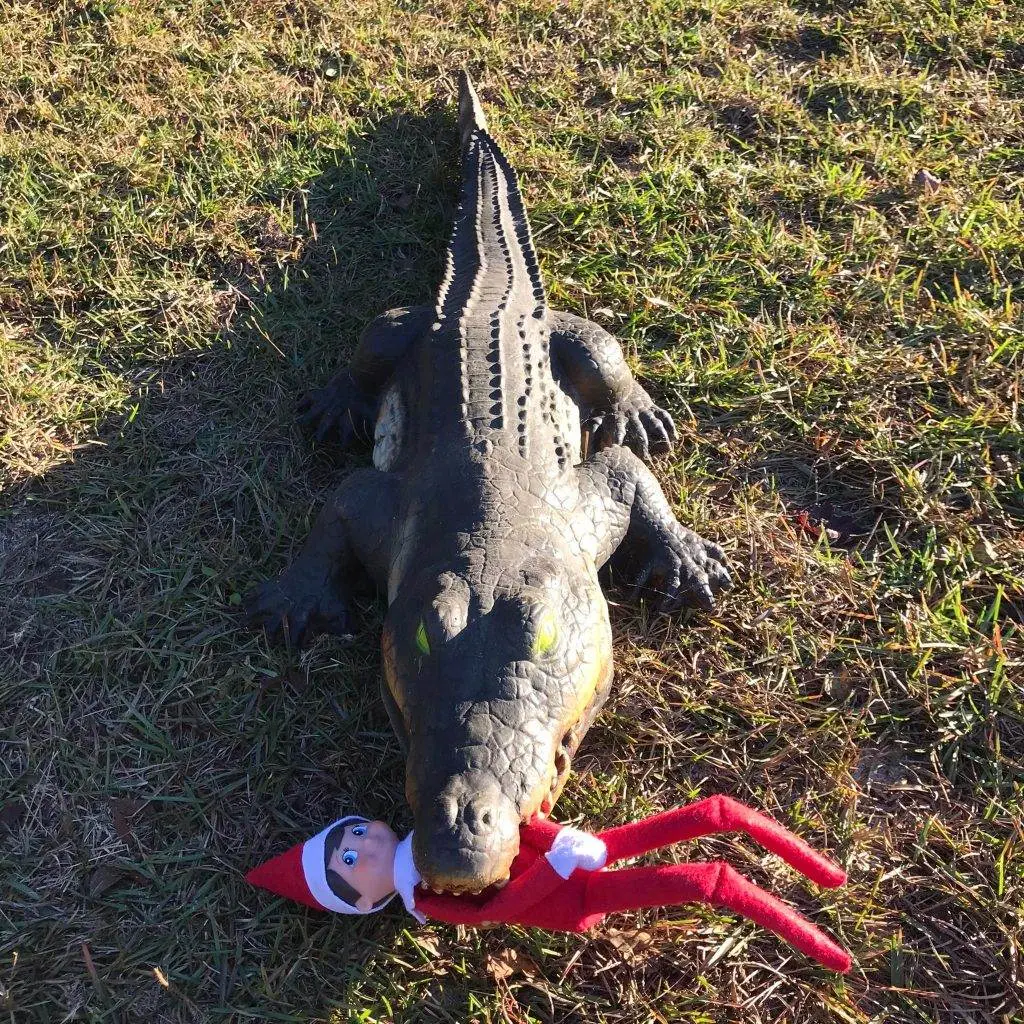 ---
Elf in the Garden
Learning how to Garden
Our elf is excited to learn all he can about gardening and can't wait to get seeds started.
We were first time gardeners this year and I loved how this book Growing Vegetables by Jessica Sowards of Roots and Refuge Farm made it easy to understand the basics and really helped us get excited about gardening!
It was after reading this book that I stopped saying I had a "black thumb" and started referring to myself as "a gardener".
---
Popping out of a cabbage in the garden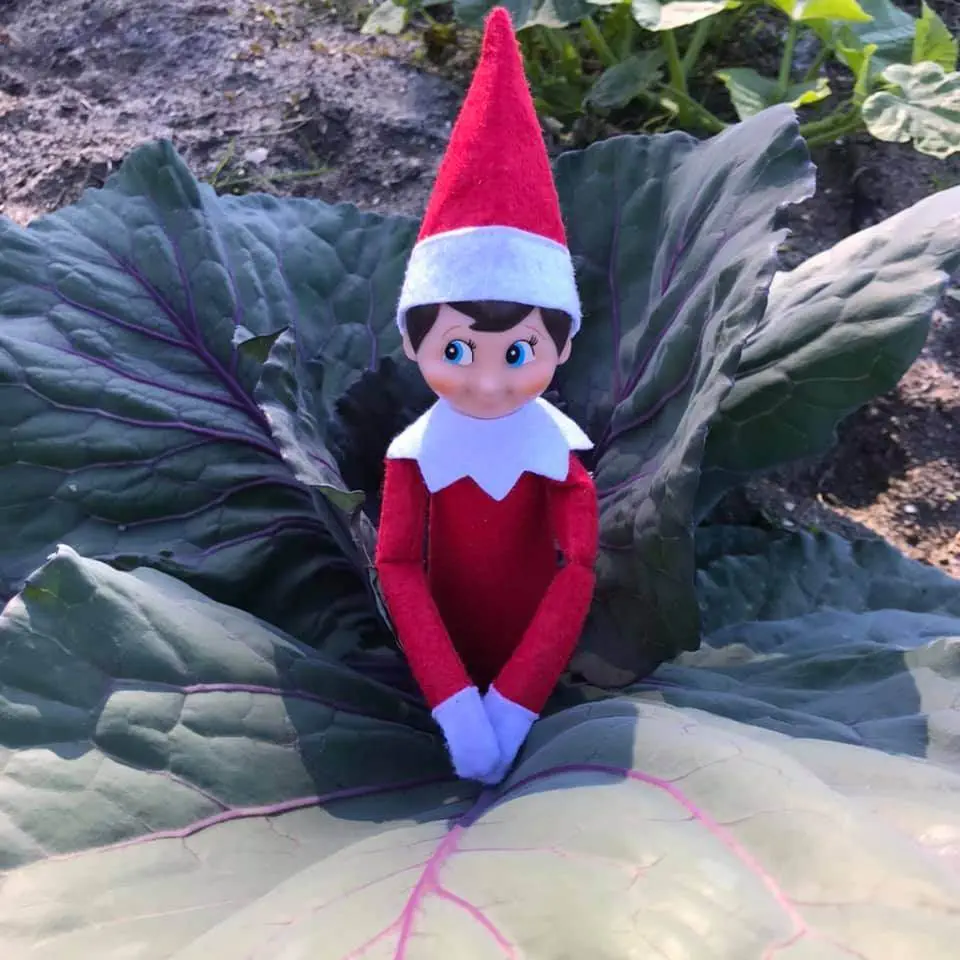 Oh, Hello there.
---
Planting Candy Canes in the Garden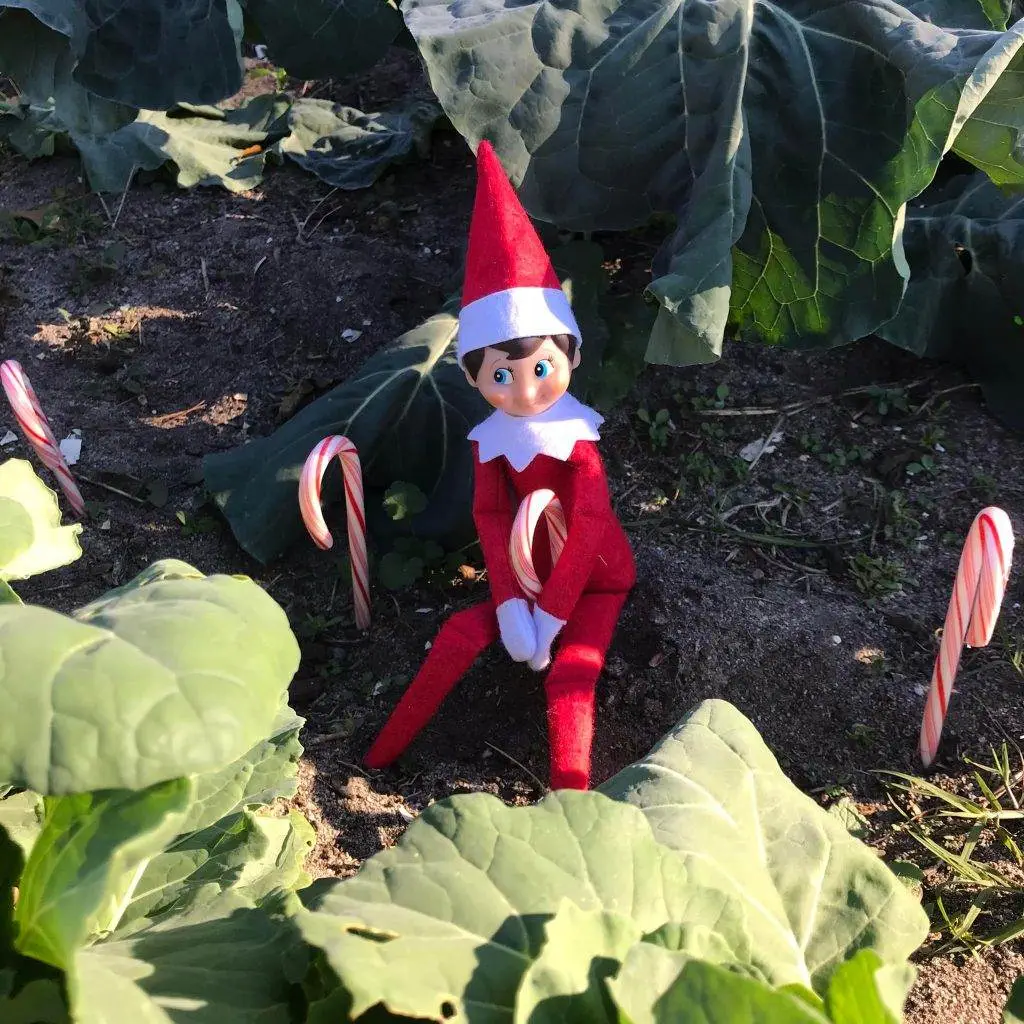 Oh, Hello there.
---
Harvesting Potatoes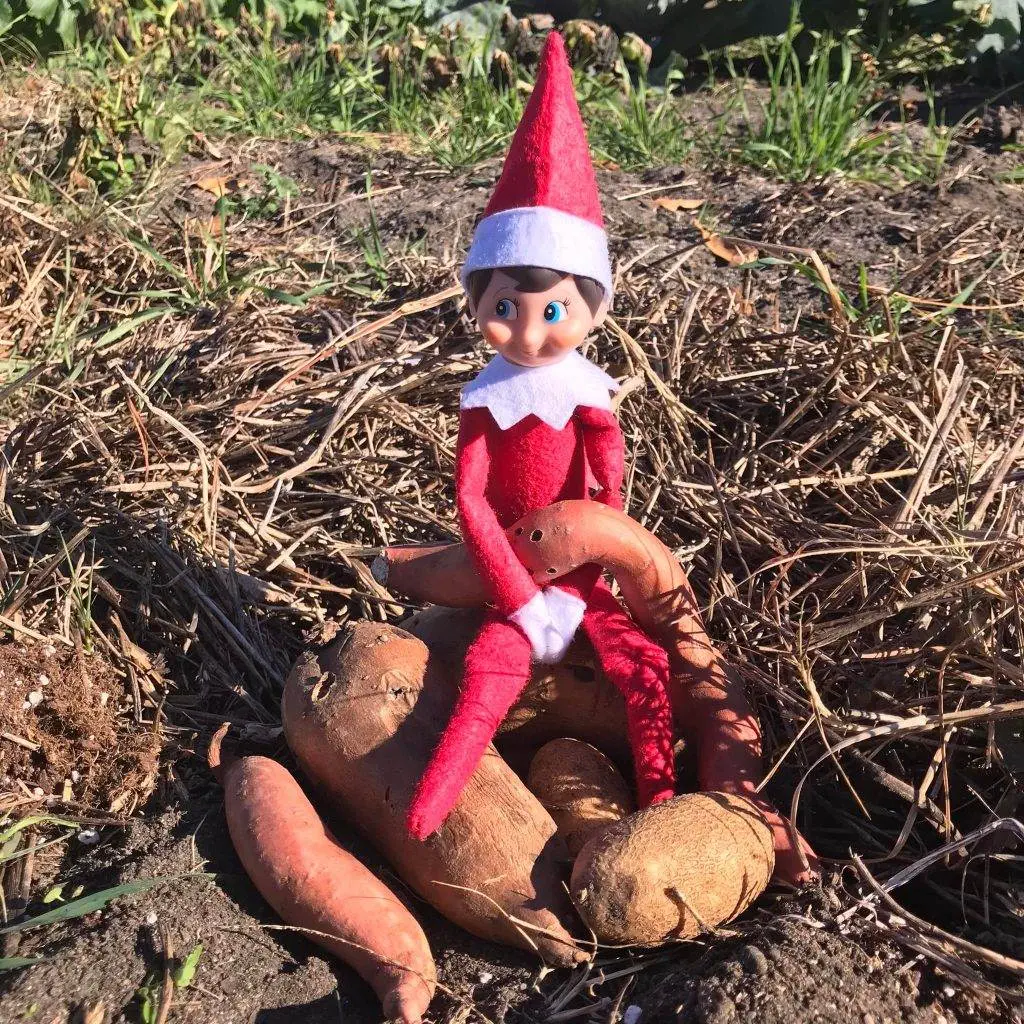 Clearly some mischief went into producing some of these funky looking sweet potatoes.
---
Spreading Christmas Cheer
Picking out a Christmas tree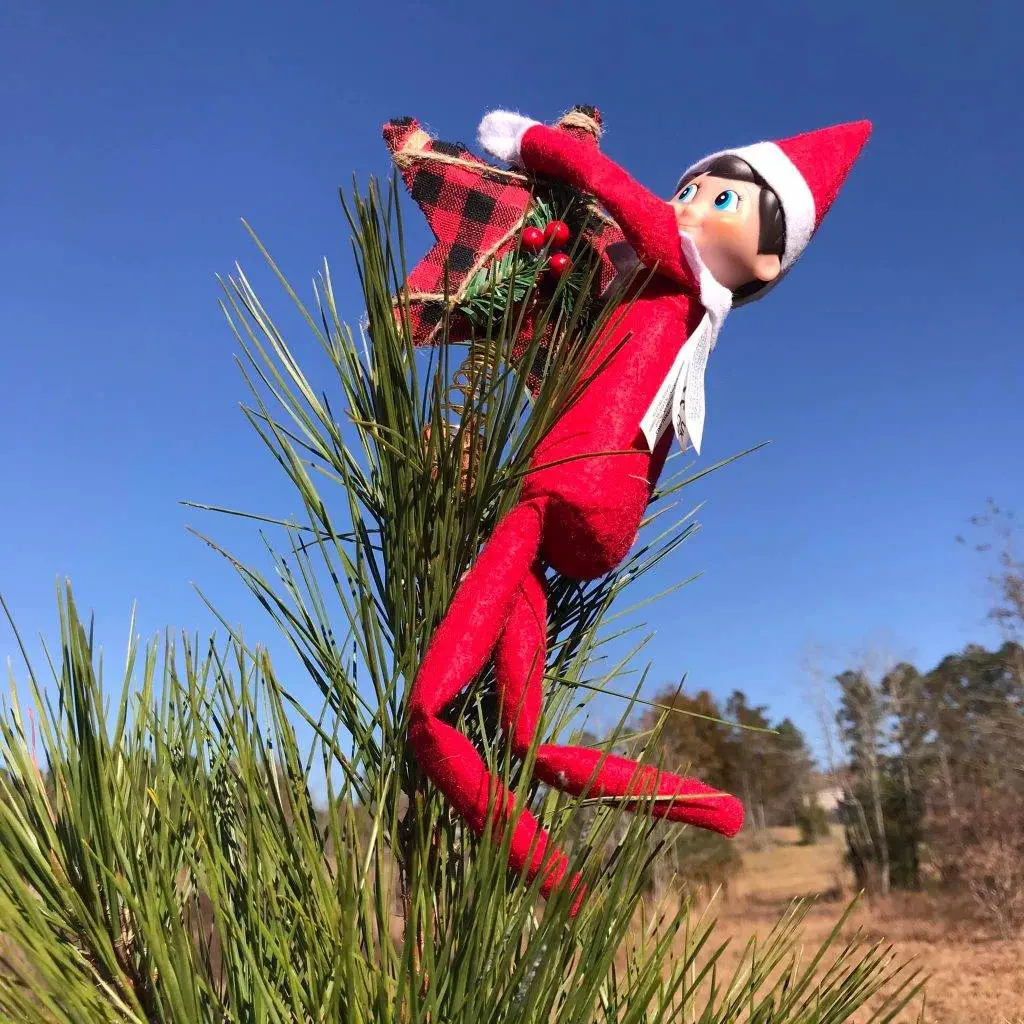 Rumor has it, our elf found this adorable plaid tree topper at the Dollar Tree.
---
Surprising the kids with a fun Gingerbread Chicken Coop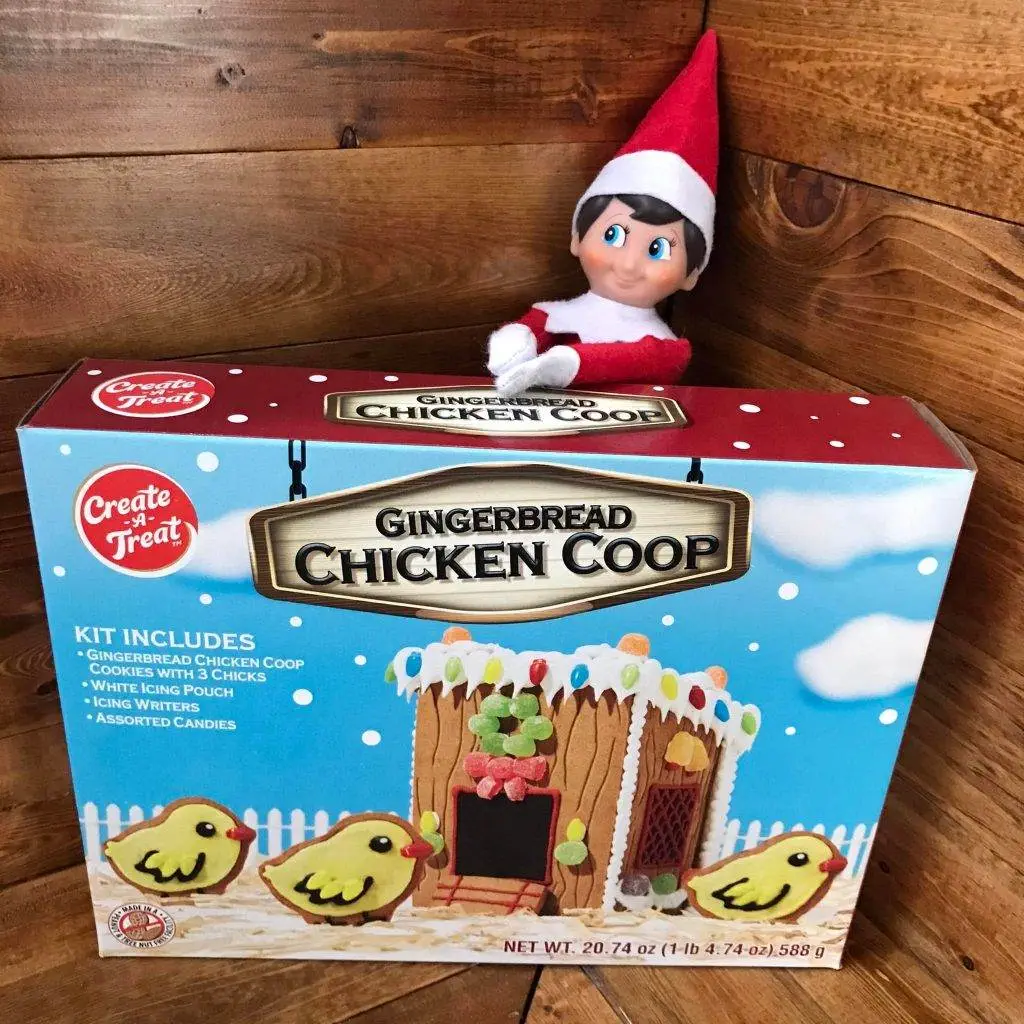 This is a super fun twist on the traditional gingerbread house, check your local Tractor Supply to snag one.
---
Riding the Festive Chicken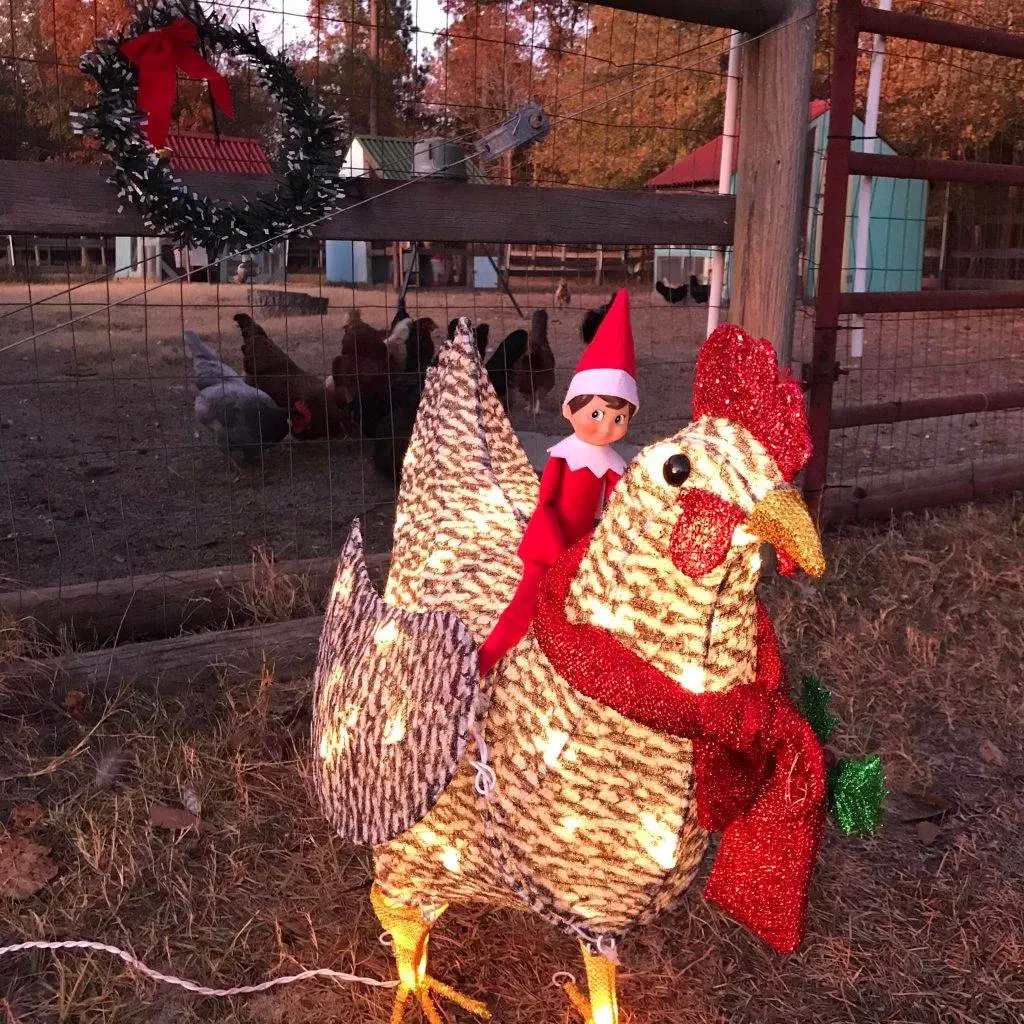 ---
Here is a Printable Calendar for you!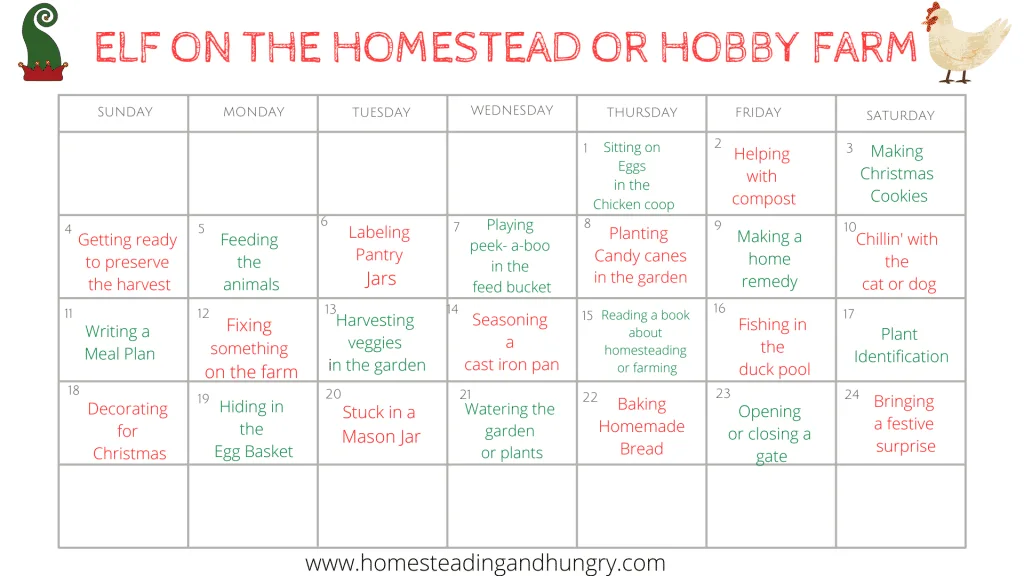 I hope you loved checking out these elf on the shelf ™ ideas as much as we loved coming up with them! If you have an Elf on the Shelf ™ at your homestead or Hobby Farm – comment below and tell us what he or she is up to.
---
Love delicious recipes and meal planning ideas?
Check out our delicious guide to Easy Homestead Meal Planning Here
Join our FREE farm to table recipe recipe sharing community HERE

Never miss a recipe – subscribe to Homesteading and Hungry Here
---
---