How to make Dairy Free Vanilla Creamer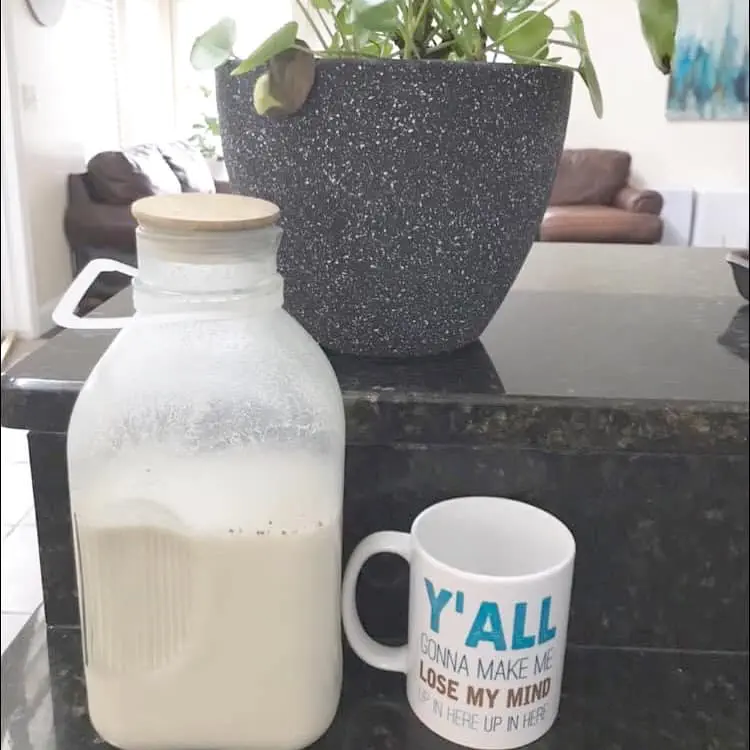 I am from Wisconsin, it goes without saying that I love my cheese and dairy however, as I have gotten older it does not love me back. As a result, I have tried many different plant based milk alternatives. I am not a fan of all the extra additives in the store bought versions and since I have developed an anaphylactic allergy to sunflower and it's derivatives such as oil and lethichian – most are ruled out for me anyway. In addition, I am both a homesteader and follow of a Mediterranean way of eating. Both of these lead me to wanting to make my food and drinks using the freshest ingredients possible. You will love knowing how to make this dairy free vanilla creamer.
I personally use an Almond Cow machine to make my cashew milk but any powerful blender will work. I love the Almond Cow because not only does it take seconds to make plant based milk but there is also no need to strain the pulp with nut milks because there is a built in filter. I also love it because I am saving money making my own and I no longer buying cartons with a plastic cap.
Ingredients needed:
5 cups of water
1 cup of raw unsalted cashews ( If you prefer to soak your cashews for at least 4 hours you can then use 1/2 to 3/4 a cup because they will expand)
a pinch of salt
My favorite Vanilla Cashew creamer for coffee
5 cups of water
1 cup of raw unsalted cashews
3-4 chopped dates (pits removed)
a pinch of salt
1 tsp of vanilla extract
To Make Vanilla Cashew Creamer:
Simply add all ingredients to your blender or choice and mix – pour into a glass container. Will keep in the fridge for up to 4 days.
Give it a good shake before using.
You can check out my video on this below
Cashew Milk for soups, sauces, and dips
You can also make this without the vanilla and dates if you want an easy dairy free cream for soups, sauces, and dips. It works great and I do it all the time!
WANT MORE EASY AND DELICIOUS RECIPES?
Join our FREE farm to table recipe recipe sharing community HERE for nightly What's for dinner inspiration, and a community of people who love delicious and healthy food. ( Please note as this is a recipes sharing community – not everything posted in this group will be Mediterranean diet friendly – however, everything that I post will.)

Never miss a recipe – subscribe to Homesteading and Hungry Here
---
---