Grow Your Own lettuce in 5 easy steps
Growing your own food is rewarding and satisfying. Being completely in charge from seed to harvest, allows you to know exactly was was done to nurture the plant. Most importantly you completely control any growing aids and can choose natural methods. Growing your own lettuce from cuttings is a fun and easy project. Although, my family gets get super excited about our homestead garden, we love doing this too. It is super simple to grow your own lettuce in 5 easy steps, and a great option for when it is too cold to put plants in the ground.
In this post you will learn how to grow your own lettuce step by step. This is a great practice to implement in a zero waste household. In addition it is an awesome way to get kids interested in gardening as this is an easy way for them to see fast results. This is also a great homeschool or classroom activity. Once you have mastered this with lettuce try it with another vegetable such as celery.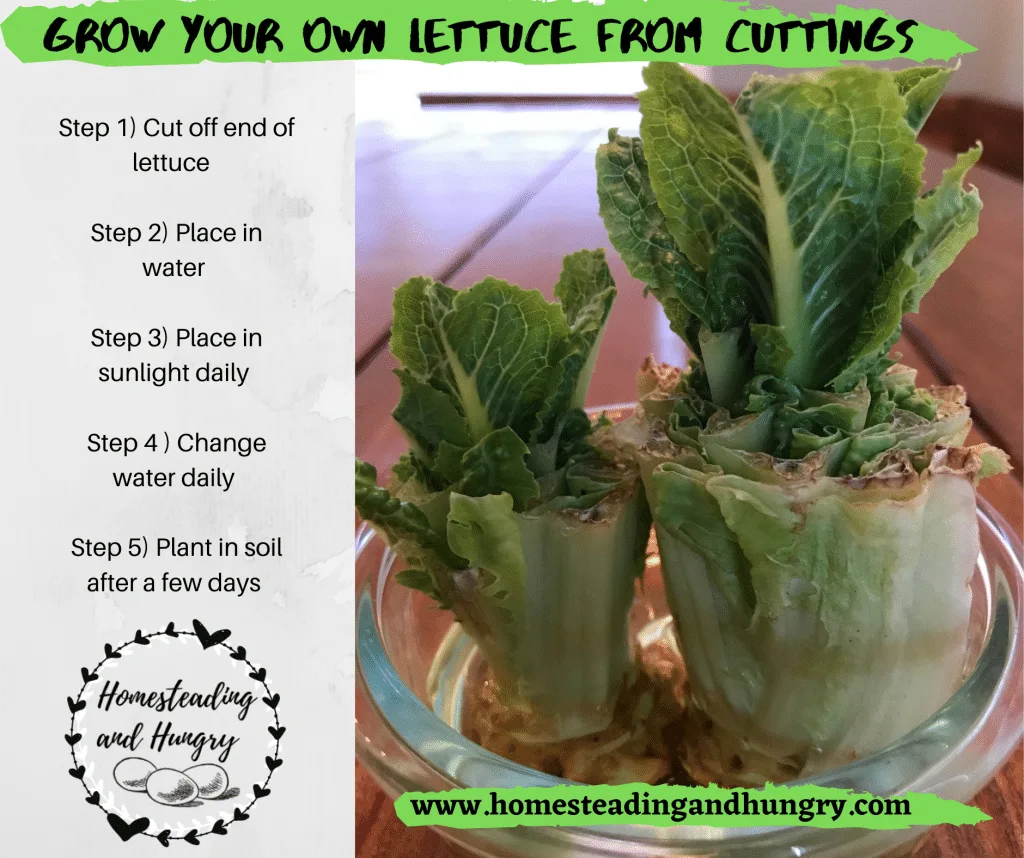 You will need:
Vegetables for the cutting
A small bowl
water
Here are the 5 easy steps to grow your own lettuce from cuttings:
1) Cut off the end of the lettuce ( I used organic Romaine)
2) Place in the lettuce in a shallow bowl of water
3) Place in sunlight daily ( I kept mine on my porch and walked it outside for direct sunlight each day)
4 ) Change water daily
5) Plant in the soil after a few days if you would like
You will see new growth on the plant in just a few days – it is very exciting for the kids! If you try growing your own lettuce from cuttings, please come back and share how it went!
FOR EVEN MORE RECIPES AND FUN…
Join our FREE farm to table recipe recipe sharing community HERE

Never miss a recipe – subscribe to Homesteading and Hungry Here
---
---