How to make Healthier Mummy Dogs
I love Fall and all of the fun things and traditions that we do with our family such as carving pumpkins and making yummy soups and chili (like this delicious white chicken chili). I love October because it is my birthday month and my sweet son Landon's too. One thing that I do with my boys every year on Halloween night is make Mummy Dogs. We started when the boys were very young and even though they are almost 13 and 16, it is a fun tradition that they still look forward to every year. It is super easy and a great activity for a Halloween party or to do with a group of kids before trick-or-treating. You could even make up a batch of these to take to a gathering. There is so much candy and artificial dye and ingredients in everything this time of year, so we make healthier substitutions where we can. Though these mummy dogs are healthified, they are still absolutely delicious.
You will need:
Crescent Rolls ( I recommend Annie's Organic because the ingredients are clean and GMO FREE).
* I wrote this blog post before I was diagnosed with a Sunflower allergy – please note these Crescent rolls DO contain Sunflower oil, so although they are a better pick then others in the stores – we cannot use them in my house anymore – I will update if I am able to find a brand that does not. *
Hot Dogs ( I recommend Hebrew National or Applegate hot dogs, again because they have cleaner ingredients). For vegetarians or vegans, feel free to substitute meatless dogs such as lightlife brand.
Mustard or Ketchup for the eyes.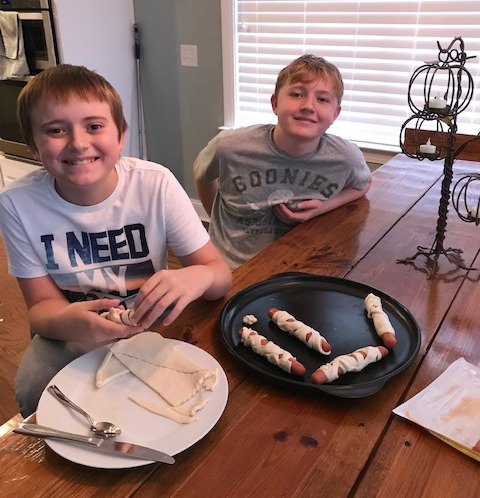 TO MAKE THE MUMMY DOGS:
Give each kid their own paper plate, two hot dogs and two crescent rolls.
Have them cut the crescent rolls into long strips, a butter or plastic knife works just fine.
Have them wrap their hot dog with the crescent strips.
Bake at 3.75 degrees for 15-20 minutes or until the rolls are brown.
Let cool, add the "eyes."
Eat and enjoy your healthified mummy dogs!
Happy Fall Y'all!
Lisa
Join our FREE farm to table recipe recipe sharing community HERE
Never miss a recipe – subscribe to Homesteading and Hungry here
---
---