Colorful Grilled Steak Summer Salad Platter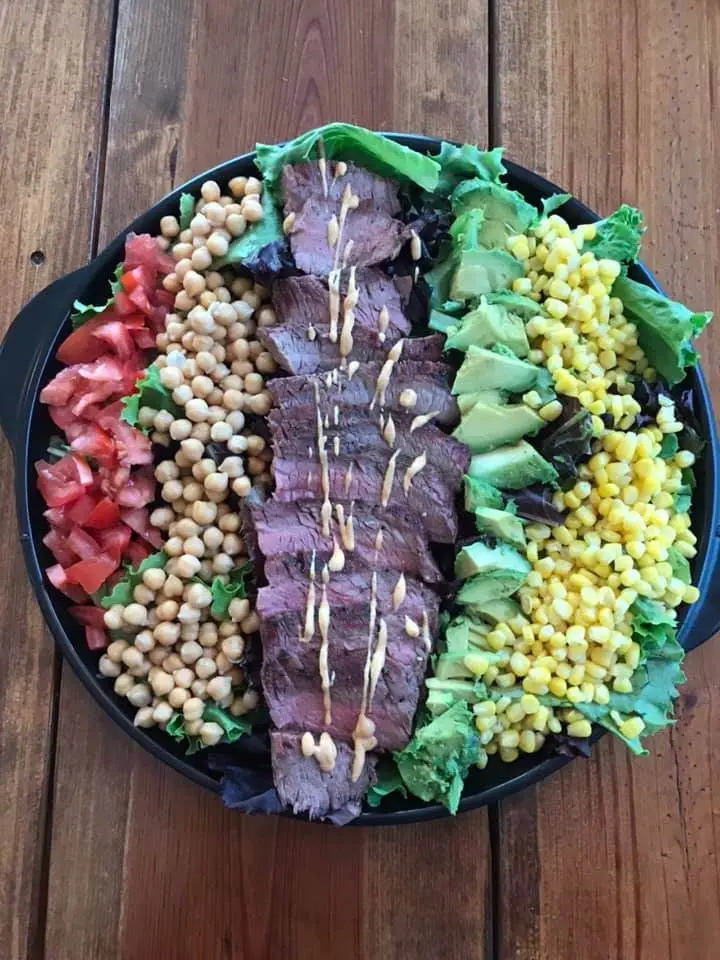 When is is super hot out, I love a big hearty salad for dinner. This Colorful Grilled Steak Summer Salad is delicious and easy. Red ripe tomatoes, cool creamy avocado, crisp corn and robust garbanzo beans introduce a lot of great textures. Lots of beautiful colors and fresh ingredients make it a show stopper. This is a refreshing dish for those hot Summer nights. It is sure to be a family favorite as well as a crowd pleaser to take to events. If you do not eat steak, this salad is also delicious with chicken, or seafood.
this post contains affiliate links, as an Amazon Associate, I earn from qualifying purchases.
You will need:
Lettuce – use a mix of colors for presentation ( I like to use a mix of butter lettuce, arugula, romaine )
Steak or any protein of choice – I used flank steak here but you can use any cut that you like
Spice blend of choice – this is to marinate the steak, I love using something with pepper, garlic, salt,
Olive oil
Chopped tomatoes ( I love on the vine tomatoes, if you grew them yourself even better!)
Avocado
a can of Garbanzo beans
corn ( be sure to use organic corn, fresh or frozen both work great here)
To Make the Colorful Grilled Steak Summer Salad:
Ahead of time – Marinate the steak in oil and your choice of spice for at least 20 minutes and throw it on the grill, cooked to your liking, set aside.
To assemble the Salad:
Start with a large platter and cover with lettuce
Next layer with your ingredients – I start with the ends and work my way toward the middle. For presentation make sure all of the layers are going the same way.
To finish:
I love to finish off my dishes with a sauce, for this one, I used Chipotle Lime Crema. Give this grilled steak summer salad a try, you will love it and so will your family!
Check out my easy DIY S'more platter for a great dessert to enjoy after dinner !
Join our FREE farm to table recipe recipe sharing community HERE

Never miss a recipe – subscribe to Homesteading and Hungry here
---
---