Seven Places to get Gluten Free Shrimp and Grits in Charleston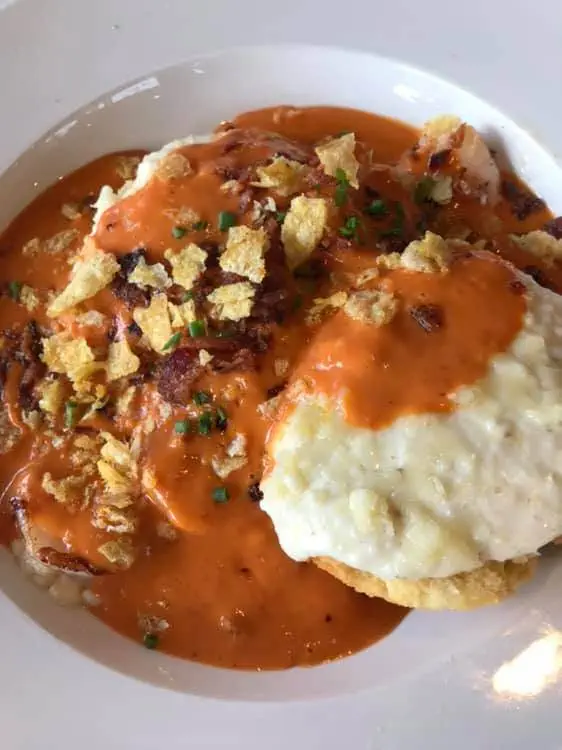 There are lots of places to get great gluten free food in Charleston, SC. Shrimp and grits are my favorite! I make my own and I started a self-guided gluten free shrimp and grits tour of Charleston as soon as I moved to the lowcountry. I ordered it on every menu that I could. Grits are already gluten free. It is the sauce or gravy that will make or break this dish for a gluten sensitive person. Each time I visit a new restaurant, I ask if the shrimp and grits is made with a roux containing flour, as sadly it has to be a deal breaker for us gluten free folks. Here are seven places to get gluten free shrimp and grits in Charleston, SC.
Please double check that these dishes are still gluten free, as restaurants can change a recipe at any time. Also as I mentioned I have a gluten sensitivity, if you or a person in your family has Celiac disease, the best thing to do is contact the restaurant to discuss what they do for food safety precautions.
The Junction Kitchen and Provisions
Park Circle
Shrimp and grits is not always on the Junction's menu. This is was on a Sunday Brunch menu. This dish was creamy and delicious. I would for sure call them to be sure they have shrimp and grits on the menu before you head over.
Delivered to your door
Culinary Creation LLC is a food delivery service by local chef Elissa Childers. Her shrimp and grits casserole is delicious and I get it every time it is on her menu! Robust shrimp, cherry tomatoes, and andouille sausage over delicious creamy grits. My whole family loves it. The menu is up by Wednesday for deliveries for the following Tuesday.
Summerville
My husband Charlie and I went to Halls Chophouse Nexton for Sunday brunch. The shrimps and grits were delicious with just a little kick. Peppers, onions, a tasso ham gravy and shrimp over pepper jack grits.
Downtown Charleston
Poogans Porch was one of the very first Charleston restaurants I checked out when we first moved here. The Shrimp and grits is traditional and delicious. Tasso ham, gravy, peppers, onions and sausage make up this yummy dish.
Goose Creek
Momo has a very interesting twist on traditional Shrimp and grits, but let me tell you, it works! Pulled pork, creme friache and a tomato based gravy over gouda grits. You gotta try this one!
Mount Pleasant and coming soon to Summerville in Nexton
I was so flippin' excited to learn of Vicious Biscuit's existence. and so were my boys. Gluten Free biscuits, WHAT? They had gluten free shrimp and grits biscuits – be still my heart. Served up with Vicious sauce, lots of bacon, white cheddar grits and jalapeño chips crushed on top. So delicious that we may or may not have ventured out there two weekends in a row.
Downtown Charleston
82 Queen was a pick for date night one night and we loved it! The shrimp and grits were delicious with just the right amount of spice. BBQ shrimp and grits with lots of onions and peppers over cheddar grits.
Have you found a great place for GF shrimp and grits in Charleston that isn't on this list? I would love to hear about it!
More like this…
Five Charleston food trucks that offer gluten free options
For a fantastic resource for Charleston restaurants – check out LOWCOUNTRY EAT OUT!
Join our FREE farm to table recipe recipe sharing community HERE

Never miss a recipe – subscribe to Homesteading and Hungry Here
---
---