Easy linguine in clam sauce with Broccoli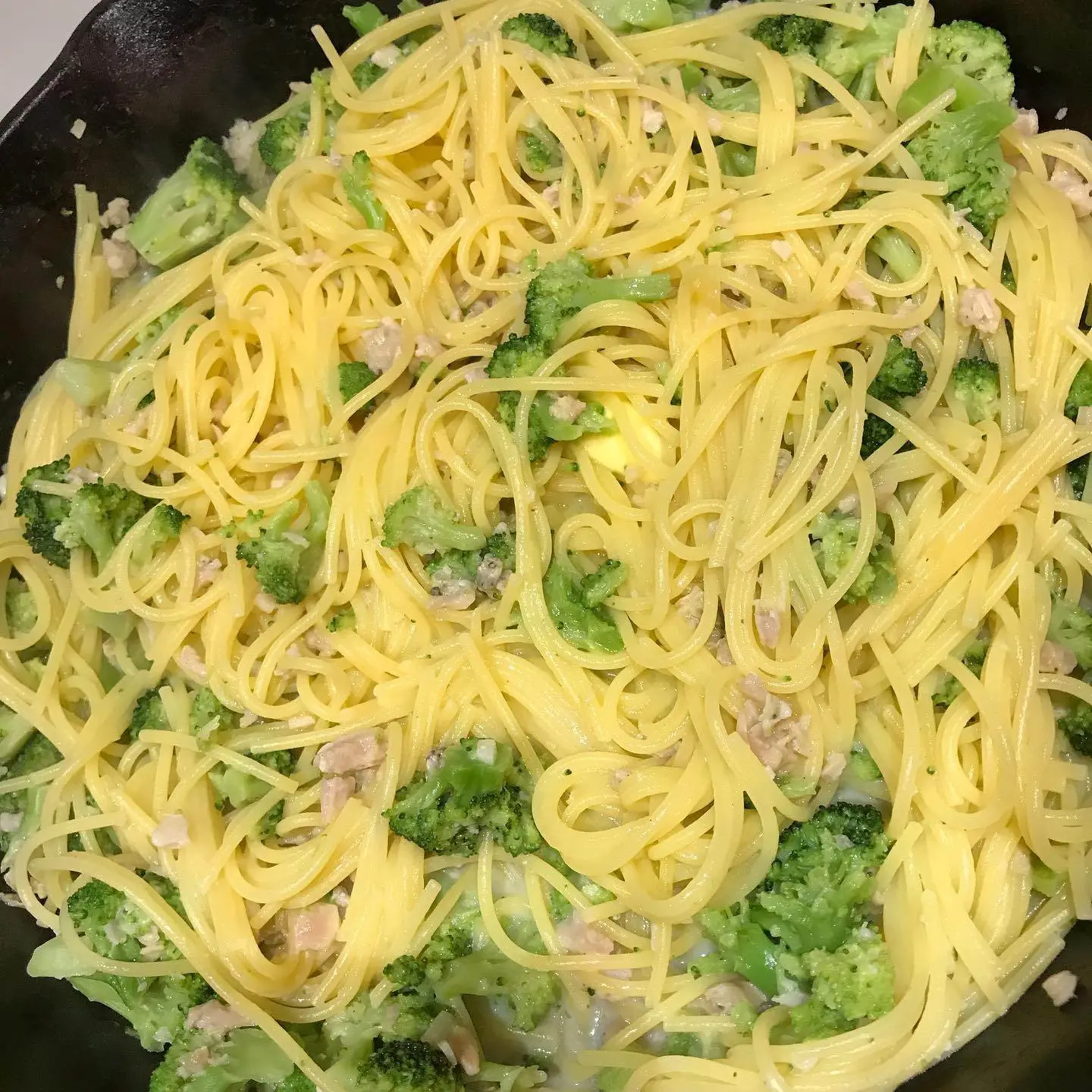 I love easy comfort food recipes! And I Love pasta! Now that I have found a fantastic gluten free pasta, I make it a lot more. When I was a kid, my grandma Caroline used to make us a simple spaghetti and broccoli with butter and it was one of my favorite things to eat. This easy linguine in clam sauce is a take on that. Garlicky, savory, tender clams, a creamy saucy, fresh broccoli ( even better if from your garden) and al dente pasta – what is not to love?
My easy linguine in clam sauce with broccoli is not only easy but delicious and fast enough to whip up on a weeknight! Picky spouses and picky kids alike will gobble this up!
this post contains affiliate links
Ingredients You will need:
2 cans of Canned Clams
1 T Olive oil or Butter ( I follow a Meditteranean way of eating, so I would use Olive oil)
1-2 cloves of fresh garlic, minced
1 pkg of cooked Pasta ( I am GF so I used Le Veneziane, the BEST GF Pasta I have tried and is made in Italy from NON GMO corn)
1/2 cup milk, I use Cashew milk
A big bunch of fresh broccoli (cooked) or 1 pkg frozen broccoli
1 tsp salt
To make Easy Linguine and Clam sauce with Broccoli:
Get your pan hot. Add your olive oil or butter. Sauté your garlic. Add in Clams, let it simmer for about 5 minutes. Add in cashew milk. Toss in your cooked pasta and broccoli. Serve immediately, with pepper and fresh parm on the table and enjoy!
Want another super easy seafood recipe? Check out my Easy Shrimp Scampi with Zoodles
FOR EVEN MORE RECIPES AND FUN…
Join our FREE farm to table recipe recipe sharing community HERE

Never miss a recipe – subscribe to Homesteading and Hungry Here
---
---