Thieves laundry Soap Hack in 3 easy Steps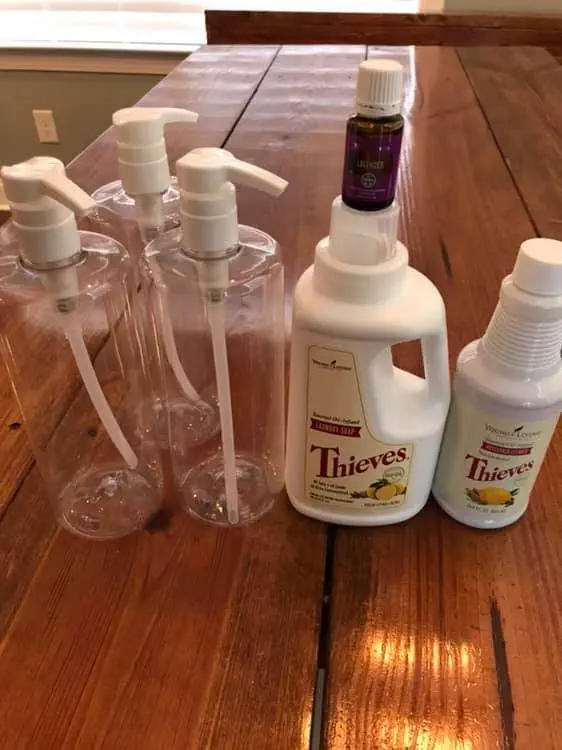 I am always looking for ways to not only keep our Homestead as natural as I can but also to do it on a budget. Thieves cleaning products have been a great way to implement safer products in my home. This Thieves Laundry soap Hack is a game changer. Adding essential oils to laundry detergent is a fun way to customize your family's favorite scent in your clothes.
Love from scratch recipes? Follow our family and our Hobby Farm on YOUTUBE!
*this post contains affiliate links, as an Amazon Associate, I earn from qualifying purchases
Why Thieves Laundry soap?
We LOVE using natural products in our home! We use the Thieves Household Cleaner, the Thieves toothpaste, the Thieves mouth wash, and more. I am in love with a lot of the Thieves line and this laundry soap is no exception! There are a lot of great DIY Thieves cleaner recipes and this is one of my favorites.
Thieves Laundry Soap is affordable
This easy laundry soap hack gets me way more bang for my buck and will make 64 loads out of each bottle that I make up which comes to about $7.81 per bottle for all natural non toxic laundry soap!
Making your Laundry Soap
You will need:
Thieves Laundry Soap
Thieves Household Cleaner

Three plastic pump bottles

(32 oz)
Essential Oils of choice (I used

Lavender and Lemongrass

)
A funnel
Water
Step one:
Pour your Thieves laundry soap equally distributed into the three plastic pump bottles, using the funnel.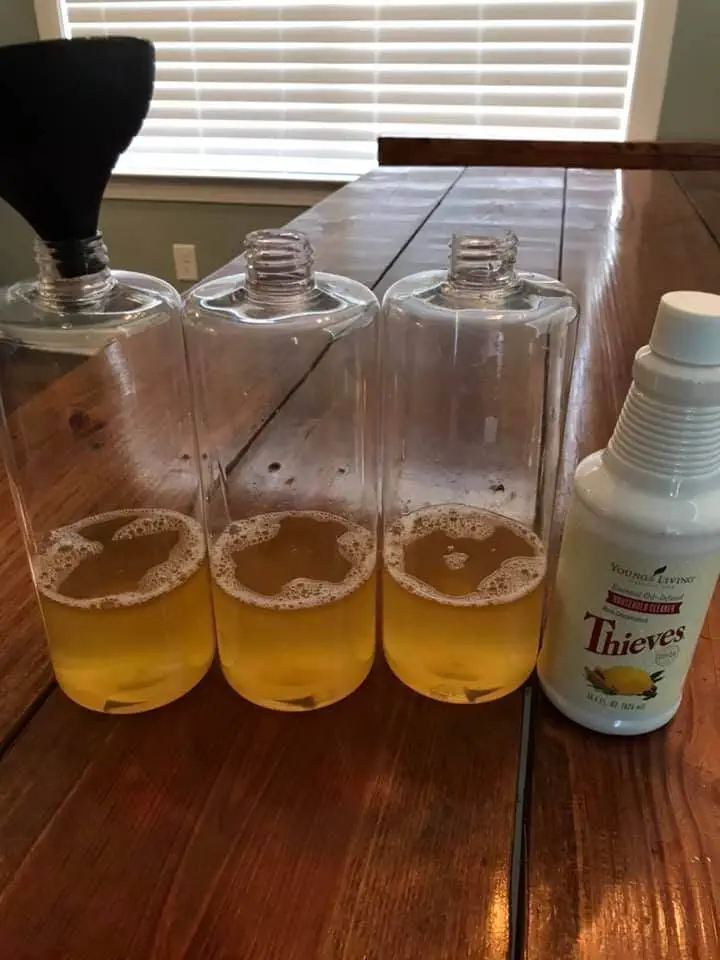 Step Two:
Add 2 capfuls of Thieves household cleaner to each of the three bottles.
Step Three:
Add 30 drops of essential oils to each of the three bottles – I use 15 drops of Lavender and 15 drops of Lemongrass.
You are done! Now you have three full bottles of laundry soap! Two-three pumps per load and you are all set! These will last you a long time!
If you try this thieves laundry soap hack, I would love to hear how you like it!
Love DIY? Check out our Homemade Coffee Creamer!
Want more natural content and delicious from scratch recipes?
Join our FREE farm to table recipe recipe sharing community HERE

For more easy recipes and healthy living tips right in your inbox:

FOR EVEN MORE DIY RECIPES AND FUN…
Never miss a recipe – subscribe to Homesteading and Hungry Here
---
---